Christie LX400, 3 LCD XGA projector and 4,000 lumens
El Christie LX400 es el compañero de resolución nativa XGA del Christie LW400, el popular proyector WXGA de 4000 lúmenes ANSI de la compañía.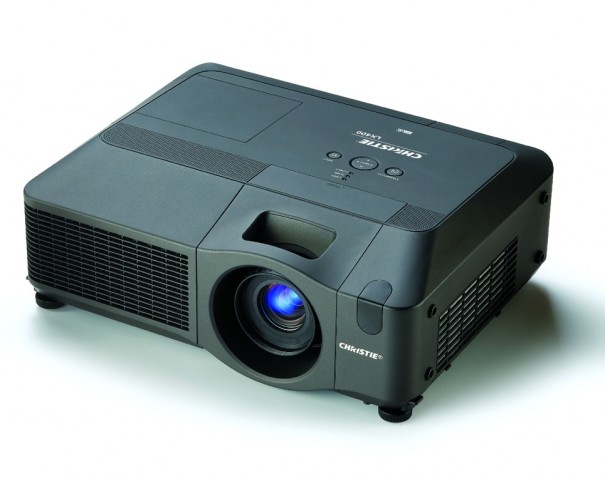 El Christie LX400, un proyector XGA de 4000 lúmenes ANSI, versátil, rico en características y con un precio asequible, hará su debut en este NAB'09. Se trata de un proyector de alto nivel que combina el renombrado estándar de Christie en alto rendimiento con las garantías líderes de la industria. Con resolución nativa XGA y relación de contraste 1000:1, el Christie LX400 es ideal para salas de juntas, pequeños auditorios, salas de conferencias, aulas, lugares de culto y escenarios de entretenimiento donde se requieren imágenes fuertes y detalladas. El nuevo proyector es compacto, ligero (7,2 kg), durable y portátil. Incluye una robusta asa de transporte integrada y una cabina resistente para transportarse fácilmente. Entre las características clave del Christie LX400 destacan la función auto keystone para una configuración sencilla, así como una pantalla de inicio personalizable, dispositivo Kensington "Style Spot" y barra de seguridad antirrobo. Con escalado hasta formatos UXGA y HD hasta 1080p, el Christie LX400 ofrece compatibilidad con la mayoría de los ordenadores y fuentes de vídeo. Este proyector de seis entradas estándar puede aceptar señales de una amplia gama de fuentes. Además, los cuatro altavoces incorporados de 4 vatios con tecnología de sonido mejorada SRS WOW ayudan a las presentaciones a cobrar vida. El LX400 se comercializa con una lente zoom estándar (1.5-1.8:1) y ofrece zoom manual, foco, y desplazamiento horizontal y vertical de ópticas. También está disponible una gama de cuatro lentes fijas y zoom opcionales, que van desde 0.8:1 hasta el zoom ultra largo de 7.3:1, para adaptarse a una variedad de aplicaciones y tamaños de salas. El nuevo proyector también soporta visualización de vídeo a muy cortas distancias "Closed Captioning" (NTSC). Diseñado para un bajo mantenimiento con una lámpara de cambio superior de fácil acceso y un filtro de 2.000 horas de vida estimada, el Christie LX400 proporciona rendimiento fiable y bajo coste de propiedad, beneficios que hoy son más importantes que nunca. Una conexión RJ-45 LAN incorporada ofrece control de red, monitorización SNMP y alertas programables del estado del producto por correo electrónico.
Did you like this article?
Subscribe to our RSS feed and you will not miss anything.
Other articles on Christie