Entero LED: Christie llama la atención con sus cubos de retroproyección de la mano de Charmex
Charmex presenta en Broadcast'09 los nuevos cubos de retroproyección pensados para control rooms y basados en tecnología LED de Christie Digital.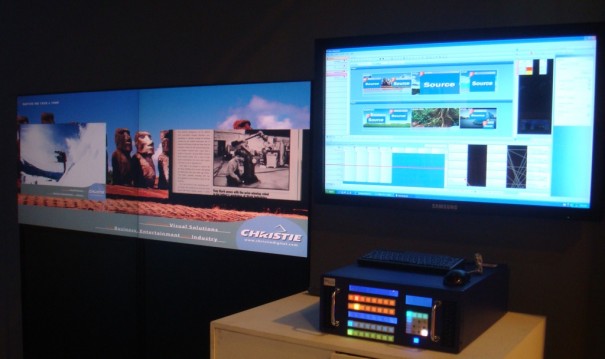 La tecnología LED, aplicada a la proyección y en concreto a los sistemas de retroproyección para control rooms, presentan una serie de novedades que convierten a la nueva propuesta de Christie, que se puede ver desde hoy y hasta final de semana en Broadcast'09, en un producto muy competitivo que podría marcar la obsolescencia de los actuales sistemas basados en lámparas de incandescencia. Los nuevos cubos de retroproyección permiten, por ejemplo, mantener unos costes de mantenimiento cero a cinco años. Los paneles de LED tienen una vida estimada de 80.000 horas y una media de 50.000 mtbf (medium time betwen fallures). Por lo tanto, no es necesario hacer cambios de lámparas y/o ruedas de color cada cierto tiempo. También aportan una mayor definición de color con un gamut más amplio. De hecho, los cubos salen de la fábrica de Christie con una definición del Gamut 100% EBU, pero puede mostrar un espectro mucho mayor, superior al ofrecido por las lámparas de incandescencia (UHP). Además, los sistemas basados en tecnología LED mantienen tanto la luminosidad como la definición de color durante toda su vida útil. Otra ventaja de estos sistemas es que se encienden y apagan con la máxima luminosidad, por lo que no necesitan un tiempo de calentamiento ni enfriamiento. Por último destacar que esta tecnología reduce al mínimo el número de artefactos propios de los proyectores basados en DLP single Chip. El precio de estas soluciones es muy similar a las basadas en DLP Single Chip.
Did you like this article?
Subscribe to our RSS feed and you will not miss anything.
Other articles Charmex, Christie