Book rooms has never been so easy with Evoko Room Manager
Among the new Charmex presents these days in the International Exhibition of Electrical and Electronic Material (Matelec 2010), held until Friday 29 at Feria de Madrid, highlights the innovative reservation system Evoko rooms Room Manager. Evoko This proposal consists of a small display that allows you to reserve meeting rooms as easily as manager Room Manager to synchronize directly with Microsoft Exchange.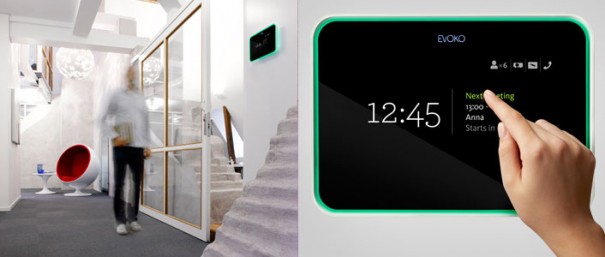 Entre las novedades que Charmex presenta estos días en el Salón Internacional de Material Eléctrico y Electrónico (Matelec 2010), que se celebra hasta el viernes 29 en Feria de Madrid, destaca el innovador sistema de reserva de salas Evoko Room Manager. Esta propuesta de Evoko consiste en un pequeño display que permite reservar salas de reuniones de forma tan sencilla como sincronizar el gestor Room Manager directamente con Microsoft Exchange. Charmex también exhibe los nuevos módulos de control SPControls indicados para poder unificar en un único equipo sencillo e intuitivo el control de dispositivos tales como videoproyectores y/o monitores de plasma en salas con diferentes usuarios. Además, permiten la copia de órdenes desde el control remoto de los dispositivos (o incluso en los modelos más avanzados la programación del sistema desde un entorno web), los paneles vienen retroiluminados, permiten la creación de macros (hasta 6 funciones por botón), o funciones de programación horaria retardada entre otros. En videoconferencia sobresalen las soluciones en ata definición de la división de Logitech, LifeSize. Estos equipos combinan una calidad excepcional de funcionamiento, lo que unido a su facilidad de uso, hacen de su videoconferencia un sistema de comunicación a tiempo real al más alto nivel, con su consiguiente ahorro en tiempo y dinero.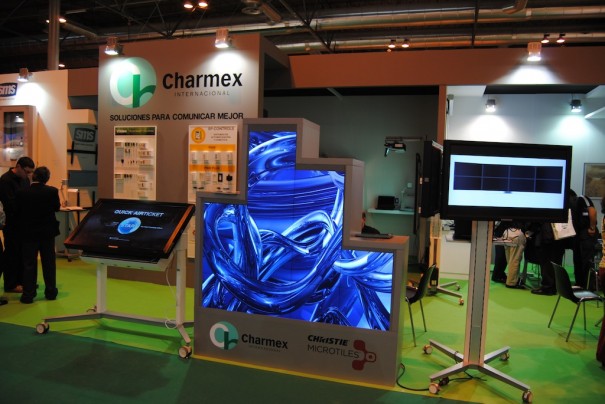 Christie y SMS
Charmex in the booth in Matelec 2010 draws attention to the Christie MicroTiles digital canvas. It is a modular digital display tiles that can be stacked and grouped to create display walls of any shape and size. Each MicroTile has a screen format 40.8 cm by 30.6 cm wide high only 26 cm thick (with a space between tiles is only 1 mm). Therefore, only they need a very small clearance for rear ventilation and can be easily repaired or replaced by the front.
Además, ya que MicroTiles está basado en LED y chips DLP permite eliminar las lámparas y otros consumibles que necesitan ser reemplazados, logrando una vida útil nominal (hasta 50% de brillo) de 65.000 horas, es decir cerca de 7,5 años de operación continuada. Charmex muestra también en esta feria el soporte de mesa para hasta ocho monitores SMS Multi Control.
Esta solución multipantalla ofrece prácticamente infinitas posibilidades de flexibilidad para cualquier persona que necesite una vista excepcional. Se puede escoger cuántas pantallas se quieren montar y su respectiva ubicación pudiendo, por ejemplo, ajustar el ángulo entre las pantallas. Otro buen ejemplo de flexibilidad en el catálogo de SMS son las nuevas pantallas interactivas Touch VeriTable que, gracias a su función motorizada, pueden inclinarse de posición vertical a posición horizontal. De altura ajustable y dotado de ruedas, es una solución práctica para universidades, arquitectos y empresas que necesitan una superficie alrededor de la cual reunirse rápidamente para discutir, dibujar y delinear estrategias. Se acciona con mando a distancia con cable.
Did you like this article?
Subscribe to our RSS feed and you will not miss anything.
Other articles on Charmex, Christie, Evoko