Christie MicroTiles en la Bolsa de Londres
La solución de visualización digital de Christie ha sido elegida por la Bolsa de Londres en una de las instalaciones más grandes e importantes desarrolladas en el mundo. Consta de 508 módulos instalados por la empresa Focus 21 Visual Communications, partner de Christie en el Reino Unido.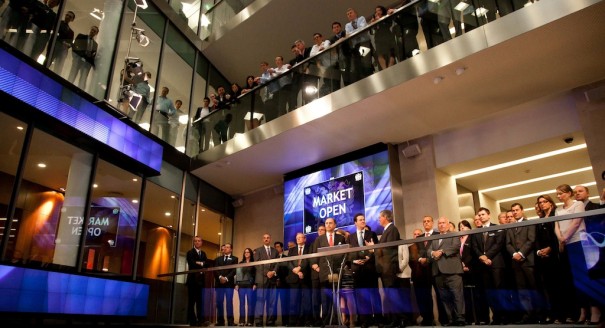 Una de las instalaciones de MicroTiles de Christie más grandes del mundo acaba de desarrollarse en la Bolsa de Londres, ubicada en Paternoster Square. El asesor y experto en gestión de contenidos Jerry Collins fue quien recomendó esta solución que consta de 508 módulos Christie MicroTiles, resultando adjudicataria del concurso la empresa Focus 21 Visual Communications, partner de Christie en Reino Unido desde hace tiempo. Christie MicroTiles permite ofrecer datos y vídeo gracias a unos módulos que funcionan como bloques de construcción que se ensamblan creando pantallas de distintos tamaños y con las formas más adecuadas a las características del entorno.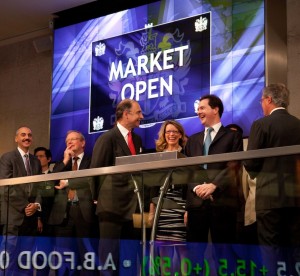 La Bolsa de Londres ofrece ahora a las empresas que cotizan en el mercado la oportunidad de utilizar la tecnología de visualización más puntera y soluciones de comunicaciones a la medida del entorno. La instalación de Christie MicroTiles se ha situado en el atrio del edificio, un espacio anteriormente ocupado por la escultura móvil The Source. Todo aquel que visite Paternoster Square se encontrará a la entrada con varias columnas de cinco módulos Christie MicroTiles. Al acceder al atrio, vemos a ambos lados dos hileras de 29 y 31 módulos MicroTiles respectivamente, así como un impresionante videowall formado por 132 cubos dispuestos en un mosaico de 11 x 12 módulos. A través de la cadena de TV especializada CNBC, el videowall MicroTiles transmite a lo largo del día y simultáneamente al resto de mosaicos MicroTiles una gran variedad de contenidos, como noticias en directo y actualizaciones de datos bursátiles.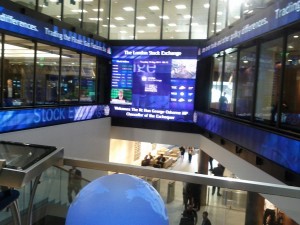 Las pantallas son gestionadas a través de seis procesadores Christie Spyder X20, donde el contenido procede de distintas fuentes (incluyendo Scala Infochannel). Además, un controlador Crestron se encarga de gestionar la iluminación, el audio y las imágenes grabadas en directo con cámara y de dirigir una ceremonia de clausura y apertura del mercado totalmente automatizada. En la balconada que da al atrio se ha instalado otro videowall MicroTiles de 8 x 6 cubos, capaz de reproducir el mismo contenido del videowall principal; mientras, a nivel del suelo, se ha montado un mosaico formado por 46 cubos MicroTiles de diferentes profundidades y alturas. Ya fuera del atrio, los visitantes tendrán acceso a información de última hora gracias a otra serie de cuatro columnas de cuadrantes MicroTiles dispuestos en una configuración de 2×4.
Did you like this article?
Subscribe to our RSS feed and you will not miss anything.
Other articles Christie