D-Link takes video surveillance to the iPad and Android tablets
D-Link ha diseñado mydlink+, una aplicación desarrollada especialmente para iPad y tablets o smartphones Android que permite, entre otras opciones, monitorizar cuatro cámaras mydlink a la vez en casa o en la oficina, recibir alertas por e-mail si detectan movimiento, acercar o alejar la imagen…
D-Link ha anunciado la disponibilidad de la aplicación mydlink+, diseñada especialmente para iPad y tablets Android. Esta aplicación hace posible vigilar con alta calidad hasta cuatro cámaras IP mydlink a la vez. La aplicación está disponible para su descarga a través de iTunes (App Store) o del Android Market.
La nueva aplicación ha sido optimizada para tablets, y permite al usuario ver cualquiera de sus cámaras IP mydlink (modelos DCS-930L y DCS-932L), desde cualquier sitio donde haya conexión Wi-Fi o 3G. Por tanto, es más sencillo cambiar de una cámara a otra o realizar zoom en una de ellas a través del panel de monitorización que permite, por primera vez, ver las imágenes de cuatro cámaras a la vez. Si no estamos en casa y queremos aumentar la seguridad, también es posible configurar las cámaras para que detecten movimiento en una zona determinada (como la puerta de entrada, el garaje) y si se produce la intrusión, el sistema enviará una alerta como correo electrónico con la imagen del suceso adjunta.
Vigilar la casa o la oficina
mydlink es la solución ideal para vigilar a los niños desde la habitación de al lado, o bien para controlar la casa o la oficina mientras no hay nadie en ellas. Asimismo, mydlink puede crecer en función de las necesidades (hasta un máximo de 4 cámaras). El portal ofrece al usuario la posibilidad de ver a sus personas y objetos más preciados, desde cualquier dispositivo conectado a Internet (PC/Mac, smartphones y tabletsiOS/Android, las 24 horas del día y mediante video en tiempo real de alta calidad.
Las dos primeras cámaras mydlink disponibles en el mercado son la D-Link DCS-930L y la D-Link DCS-932L. La cámara IPWireless N para el hogar D-Link DCS-930L es una solución de vigilancia de gran versatilidad para hogares o pequeñas empresas. A diferencia de las tradicionales webcam, la DCS-930L tiene un funcionamiento autónomo y no necesita estar conectada a un PC para transmitir vídeo y audio de alta calidad para la vigilancia remota y del hogar. Con el sistemamydlink incluido, esta cámara ofrece la forma más sencilla de acceder y gestionar la cámara, ya sea a través del ordenador o de una aplicación en su iPhone, Android o Tablet.
Por su parte, la cámara IPD-Link DCS-932L Wireless N de día y noche para el hogar incluye las mismas prestaciones que la DCS-930L pero añade la posibilidad de videovigilancia durante 24 horas ya que cuenta con LEDs infrarrojos integrados que permiten monitorizar en condiciones de baja o nula luminosidad.
Antonio Navarro, director de ventas y marketing de D-Link Iberia, ha comentado que "la monitorización remota te da la seguridad de saber qué está pasando en tu casa. La ventaja es que, cuando quieres verlo, no tienes que estar sentado delante de un PC, sino que puedes hacerlo desde cualquier lugar. Además, siempre estás más tranquilo sabiendo que en caso de movimiento en una zona que no debería tenerlo recibirás una alerta por correo electrónico. Presentamos la aplicación mydlink+ para ofrecer aún más beneficios y prestaciones al cada vez mayor número de usuarios de tablets".
Además de la nueva aplicación mydlink+, el servicio mydlink también es accesible a través de la aplicación gratuita mydlink lite. Esta aplicación permite a los usuarios ver en vivo sus cámaras y tomar fotografías desde una cámara mydlink. Está disponible para la mayoría de las plataformas móviles, incluyendo iPhone, smartphones Android y iPad.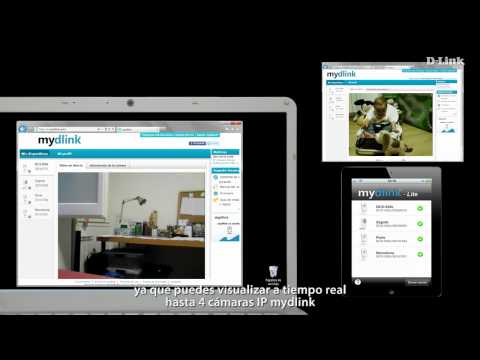 Did you like this article?
Subscribe to our RSS feed and you will not miss anything.
Other articles on D-Link