D-Link launches video recorder DNR-322L mydlink Network
D-Link ha presentado la grabadora de vídeo en red mydlink TM Network Video Recorder DNR-322L, que completa los sistemas de videovigilancia mydlink con la gestión avanzada de grabaciones.
Para mejorar la seguridad en casas y oficinas, D-Link ha sacado al mercado una grabadora de vídeo en red, mydlink Network Video Recorder DNR-322L, para completar su sistema mydlink añadiendo grabación continua con gestión avanzada de sucesos.
Los sistemas de videovigilancia IP mydlink, basados en las cámaras IP DCS-930L y DCS-932L permiten vigilar la casa, oficina o empresa desde cualquier dispositivo con conexión a Internet (smartphone, tablet, portátil, etc) y proporcionan una solución sencilla y asequible contra este tipo de robos. Además, se pueden configurar de forma que envíen alertas al móvil o correo electrónico si detectan movimiento.
El nuevo mydlink Network Video Recorder (DNR-322L) es un dispositivo de grabación en red que captura y graba imágenes en alta calidad provenientes de cámaras IP. La grabadora puede ser gestionada a través del portal mydlink, para que sea aún más sencillo monitorizar la casa u oficina a través de un sencillo interfaz de usuario.
Una vez conectada, la grabadora descubre de forma automática todas las cámaras presentes en la red, y puede ser configurada siguiendo unos pasos muy sencillos. Es capaz de proporcionar hasta 6 semanas de vídeo ininterrumpido. Además, puede grabar vídeo en alta definición (1080p) y soporta el estándar de compresión de imagen más moderno (H:264), por lo que es posible almacenar más vídeo en menos espacio de disco, sin pérdida alguna de calidad.
mydlink permite vigilar a los niños desde la habitación de al lado, o bien controlar la casa o la oficina mientras no hay nadie en ellas. Asimismo, mydlink puede crecer en función de las necesidades (hasta un máximo de 4 cámaras). El portal web mydlink ofrece al usuario la posibilidad de ver a sus personas y objetos más preciados, desde cualquier dispositivo conectado a Internet (PC/Mac, smartphones y tablets iOS/Android), las 24 horas del día y mediante video en tiempo real de alta calidad.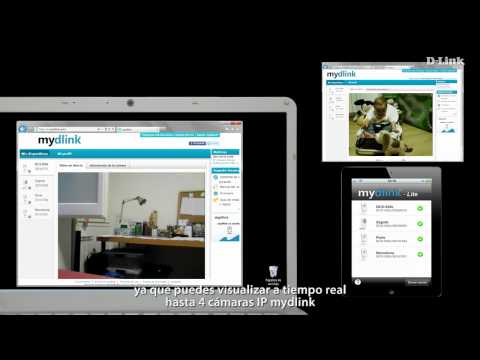 Did you like this article?
Subscribe to our RSS feed and you will not miss anything.
Other articles on D-Link