Created in Japan a vending machine facial recognition through a screen Full HD 2.0
In Japan it is testing a new concept of sale kiosk, baptized as ' machine vending 2.0' by their manufacturers, companies Sanden and Okaya, which uses a translucent screen of digital signage that displays a digital clock or animations for the attention of passers-by, and then uses video analysis AIMS of Intel capabilities to display ads chosen depending on the person who is placed facing machine.
Not fit doubt of that Japan is the country of the machines vending, and the new model developed by the companies Japanese Sanden and Okaya (e Intel) it is perhaps the most advanced. This ' machine vending 2.0' features with a screen translucent of 65 inches with resolution Full HD as point of sale.
When there is no potential customers around, the screen displays a digital clock and various animations to attract people. Once a person is plant in front of the machine, the system of recognition facial Audience Impression Metrics Suite (AIMS) of Intel determines the sex and the age approximate and le shows ads custom. The manufacturer Sanden aims that the screen of the machine can produce text, images or animations in quality HD.
According to Intel, "the vending machine provides analysis of the amount of time customers spend watching the digital display and what kind of content attracts the attention of a customer".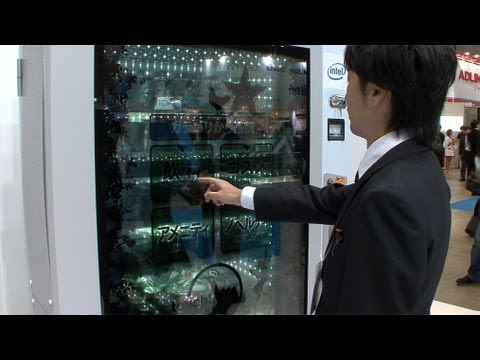 Did you like this article?
Subscribe to our RSS feed and you will not miss anything.
Other articles on Intel, Okaya, Sanden