Volkswagen emplea la realidad aumentada para anunciarse en la prensa escrita
La delegación de Volkswagen en Singapur, junto con la agencia Tribal DDB, ha aprovechado el lanzamiento de su nueva aplicación para iPhone para promocionar su gama de vehículos en el diario
The Straits Times
mediante un anuncio impreso de realidad aumentada que permite a los lectores contemplar las características de los distintos modelos y, si lo desean, con un simple gesto del dedo, reservar una prueba del coche.
Una nueva experiencia de realidad aumentada sin precedentes dio la bienvenida a los singapurenses el primer día del año. Un anuncio interactivo insertado por Volkswagen Singapur en el diario local The Straits Times permitía a los lectores -por primera vez- participar en la interacción del usuario con un anuncio impreso utilizando sus dispositivos Apple iOS para descubrir toda la gama de modelos de la marca automovilística alemana.
Esta nueva experiencia también marca el lanzamiento de la primera fase de la aplicación para dispositivos Apple iOS "VW SG", que activa el componente de realidad aumentada del anuncio. Además, los usuarios tienen a su disposición, literalmente, la sala de exposición de Volkswagen para explorar las características del modelo e incluso reservar una prueba del coche con un solo toque del dedo.
Dentro de esa naturaleza intuitiva, la aplicación cuenta con una guía en video alojada en el sitio web de Volkswagen Singapur. La campaña sirve para proporcionar una plataforma que permite a los clientes el acceso a Volkswagen en cualquier momento y en cualquier lugar. El desarrollo de la aplicación ha corrido a cargo de la agencia Tribal DDB.
Jamie Lee, director general de Comunicaciones de Mercadotecnia del Grupo Volkswagen de Singapur, ha señalado: "Con la alta tasa de penetración de los smartphones, sentíamos la necesidad de estar en la plataforma móvil para proporcionar comodidad a nuestros clientes y cualquier persona que pudiera estar interesada en nuestros coches. Esto es sólo el comienzo. Con el tiempo, esperamos impulsar esta aplicación con más características innovadoras y funcionalidades sinónimo de la marca Volkswagen para permitir a nuestros clientes conectarse con nosotros a un nivel más amplio".
Por su parte, Jeff Cheong, director creativo de Tribal DDB Singapur, ha comentado: "Esperamos poder utilizar esta aplicación para mejorar la experiencia general de la sala de exposición de Volkswagen. Con tecnología y creatividad, creemos que la aplicación será capaz de servir como una plataforma 'siempre conectada' para que los clientes puedan acceder a Volkswagen".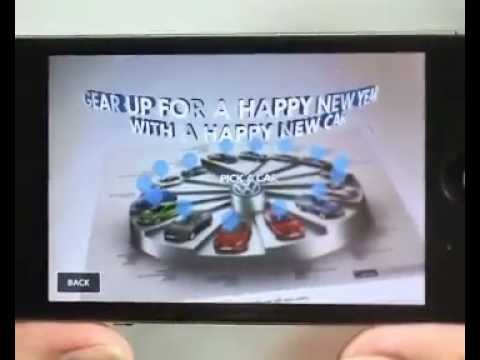 Did you like this article?
Subscribe to our RSS feed and you will not miss anything.
Other articles on Tribal DDB, Volkswagen