Sony advances the future of television with its Crystal LED Display
Sony ha desvelado en la feria CES un prototipo de pantalla con una nueva tecnología llamada "Crystal LED Display". Se trata de la primera pantalla de auto-emisión Full HD de 55 pulgadas que usa LEDs como fuente de luz. Esto significa que tendrá un contraste mucho más alto, una gama de colores mucho más amplia y excelentes tiempos de respuesta de imagen de vídeo.
Sony Corporation ha anunciado en CES 2012 que ha desarrollado una pantalla con autoemisión de próxima generación denominada, Crystal LED Display y ha presentado un modelo prototipo Full HD de 55 pulgadas. Es la primera pantalla con autoemisión Full HD de 55 pulgadas de la industria que utiliza LED como fuente de luz.
Crystal LED Display es una pantalla con autoemisión que utiliza exclusivos métodos de Sony para colocar LED ultrafinos en cada uno de los colores Rojo-Verde-Azul (RGB), equivalente al número de pixeles (aproximadamente seis millones de LED para lograr resolución Full HD). La fuente de luz LED RGB se coloca directamente en la parte frontal de la pantalla, mejorando en enorme medida la eficiencia del uso de luz.
Esto da como resultado imágenes con un contraste notablemente mayor (en ambientes luminosos y oscuros), una mayor gama de colores, magnífico tiempo de respuesta para imágenes de video y mayores ángulos visuales en comparación con las pantallas LCD y plasma existentes, y con menor consumo de energía. Además, gracias a la estructura y a los procesos de fabricación del panel, Crystal LED Display también es ideal para grandes pantallas.
En comparación con las pantallas LCD existentes, el prototipo de 55 pulgadas exhibido en la CES presenta un contraste aproximadamente 3,5 veces mayor en ambientes luminosos, una gama de colores aproximadamente 1,4 veces más amplia y un tiempo de respuesta aproximadamente 10 veces mayor para imágenes de video (todos los valores se basan en los modelos Sony actuales).
Sony tiene planeada una amplia gama de aplicaciones para su Crystal LED Display que incluyen aplicaciones para uso profesional y doméstico. En paralelo a su continuo desarrollo y comercialización de pantallas de diodo orgánico de emisión de luz (OLED), Sony trabajará a conciencia para llevar la pantalla Crystal LED Display al mercado.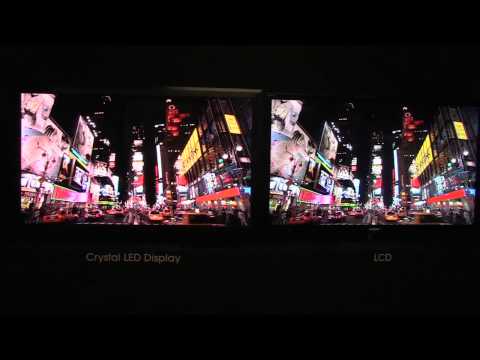 Did you like this article?
Subscribe to our RSS feed and you will not miss anything.
Other articles on Sony