Burton creates a system that allows you to project holographic images in 3D in motion in the air
The company Japanese Burton has shown in the CES 2012 of the Vegas his last application of it technology True 3D Aerial Display: sharks holographic in 3D. This technology of 3D display, which uses a laser to create bright points of light movement in the air or under water, is intended to be applied in the digital signage market.
Burton It lays claim to being the first company in the world has created a true 3D image in movement that is displayed in the air and without the need for glasses. In the CES of the Vegas, the company Japanese used this technology to create through a laser green small Sharks swimming inside a box of glass.
"Most of the current 3D devices projected images on a screen in 2D, and make images look to be in 3D through an optical illusion. However, this new device displays images as-is in the air, so that allows the 3D objects are naturally", designated from the company.
The compact display, dubbed Super Real Vision, uses a "phenomenon of plasma emission near the focal point of the focused laser light". To the control the position of the point focal in the coordinates x, and and z, shows images real in 3D built by arrays of points in the air. By now, is can build 50,000 points per second to a speed of 10-15 fps, very below the million of + pixels of the HDTV. The company is working to increase to 24-30 fps frame rate and get a display in color by combining red, green and blue.
This prototype has been achieved in collaboration with the National Institute of Advanced Industrial Science and Technology and Keio University, the original developers of the system. This technology may have applications in digital signage, trade shows and medical care, according to Burton, who is already working on more powerful lasers for larger image. The team will present its latest version at IBC 2012.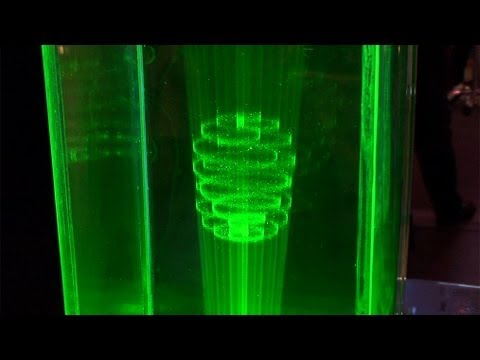 Did you like this article?
Subscribe to our RSS feed and you will not miss anything.
Other articles on Burton