BlueFocus Media and Zivelo provide solutions assistance tourist turnkey
The developer of interactive products, BlueFocus Media, and the manufacturer of self-service kiosks and digital signage, Zivelo, products have signed a collaboration agreement to offer a support portal to the tourist centres of visitors.
Zivelo and BlueFocus Mediaa developer of digital network solutions, have announced an agreement that gives BlueFocus mean direct access to the complete line of self-service kiosks and digital signage Zivelo products. BlueFocus Media has resorted to Zivelo to integrate its TAP (Portal of tourist assistance) platform with kiosk manufacturer designs to provide a turnkey solution for their clients.
Chad Warner, President of BlueFocus Media, said: "Zivelo manufactures high quality products that can withstand the movement of thousands of tourists to toqueten touch screen kiosks. Its terminals are not only built to last, but that the CVBS (Convention and Visitors Bureaus) that we have to deal are delighted with the range of sizes and display format options available. Zivelo has an option for each application."
TAP (tourist assistance Portal) is an interactive touch screen kiosk, placed in high traffic tourist places, and acts as a virtual tour guide and a public information center. Offers easy access to the history, culture and local events, weather forecasts and local enterprises, completed with menus and maps, guides Gallery photos - TAP system is a valuable tool for any community that wants to generate revenue and a positive perception of their area.
Ziver Birg, CEO of Zivelo, said on BlueFocus Media that "the simplified system offers the perfect way for cities to involve visitors and residents in the community and to increase the income of local businesses, and ultimately for stimulate economic and cultural growth. "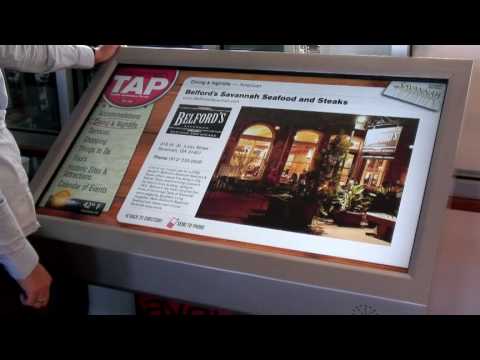 Did you like this article?
Subscribe to our RSS feed and you will not miss anything.
Other articles on BlueFocus Media, Zivelo