3m advances in CES 2013 an 84-inch multi-touch display
The provider of solutions of technology of screen touch, 3 M Touch Systems, participates in the International Consumer Electronics Show (CES) 2013, the fair more large of the world in technology of consumption, that is celebrates of the 8 to the 11 of January in the center of conventions of them Vegas, where is presenting a gigantic screen touch of 84 inches with resolution Ultra HD (3,840 by 2,160 pixels) and that detects until 40 points different of pressure.
Projected capacitive touch screen technology developer (PCAP), 3 m Touch Systems, it is showing at the Consumer Electronics Show (CES) 2013 Las Vegas (USA) multi-touch display prototype of 84 inches. This combination of collaborative space on-screen expansive and high performance of 3M multi-touch technology offers users an unparalleled multi-user as a multi-touch display wall, or an interactive table.
The screen, according to 3 M, has applications in museums, casinos and transport public, among other applications. Is compatible with Linux and Windows, and there are developers working on implementations for Mac OS. Is designed for the use intensive, by what your glass is resistant.
Diego Romeu, Manager of operations of business of 3 M Touch Systems, has commented: "3 M continues defying the limitations of size of the technology multi-touch of high performance and them investments that have made in the development of platforms electronic PX us allows achieve our objectives of innovation." Our 84-inch multi-touch display prototype demonstrates the capacity of 3 M to scale electronic PCAP and manufacture of sensors to meet the need of our customers increasingly large format touch solutions."
In the CES 2013 (30167, South Hall 3 stand), 3M Touch Systems will exhibit various configurations of tables and screens:
• multi-touch table 84 "
• multi-touch table 46 "
• Display Wall 1 x 3 multi-touch 46 "
• Touch multi-touch table 32 "
• Display wall 3 × 3 multi-touch 32 "
• Two selectors interactive multi-touch product retail 32 "
• Displays desktop multi-touch 21.5 ", 24" and 27 "
• Displays chassis multi-touch 21.5 "and 32"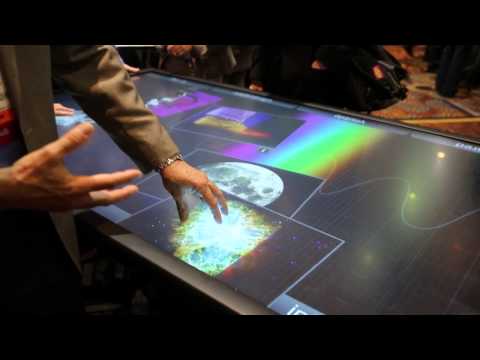 Did you like this article?
Subscribe to our RSS feed and you will not miss anything.
Other articles on 3 M