Microsoft develops a technology that projects interactive experiences
Microsoft ha sorprendido en el CES de Las Vegas con la presentación de IllumiRoom, una innovadora tecnología que emplea Kinect y un proyector para aumentar la imagen de la pantalla. Primero, Kinect escanea la geometría de la sala, y luego, en tiempo real, la tecnología se encarga de proyectar efectos por toda la habitación para hacer la experiencia más inmersiva, o incluso ampliar el campo de visión más allá de lo que se encuentra en la pantalla.
La última innovación de Microsoft se llama IllumiRoom, un prototipo de Microsoft Research que, gracias a la tecnología de Kinect, permite aumentar el área alrededor de la pantalla de un monitor mostrando visualizaciones proyectadas para mejorar la experiencia de entretenimiento en cualquier sala. Esta innovadora tecnología utiliza la cámara de Kinect y un proyector que permite desenfocar la línea entre el contenido que visualizamos y el medio que nos rodea. El sistema utiliza la geometría de la sala capturada por Kinect para adaptar las imágenes proyectadas en tiempo real sin necesidad de procesar con anterioridad los gráficos a media.
El proyecto desarrollado por un equipo de cuatro investigadores de Microsoft Research compuesto por Hrvoje Benko, Andrew Wilson, Eyal Ofec y Brett Jone ha creado un nuevo mundo de acción, fantasía y entretenimiento con la proyección de secuencias que combinan el espacio físico con el de la ficción. Las imágenes ambiente se generan de acuerdo con los contenidos de la ficción para potenciar el realismo de los escenarios, el movimiento, la penumbra o los colores. IllumiRoom también cambia la tonalidad de la sala y potencia unas texturas sobre otras, todo ello con la intención de crear una experiencia de entretenimiento completa.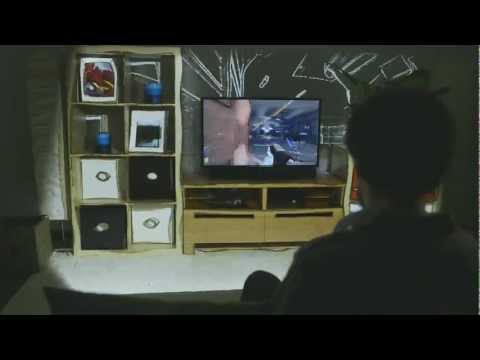 Did you like this article?
Subscribe to our RSS feed and you will not miss anything.
Other articles on Microsoft