Kraftwerk committed to Watchout to create stereoscopic 3D and interactivity on their new tour
Kraftwerk, the German pioneer of electronic pop group, has resorted to multimedia solution Watchout Dataton for the show of his tour of 2013, which adapts the 3D technology to its own language and gives body and volume to the powerful iconography that accompanied them throughout his career.
The enigmatic German group Kraftwerk, pioneer of electronic sounds, will take advantage of the dynamic interactive and 3D features multi-image presentation software Watchout of Dataton for all digital scenery in its expected concert tour throughout 2013. Formed in 1970, the German band started using stereoscopic 3D concert MoMA and rock festival 'Way Out West' in the spring of 2012.
Watchout gestiona el contenido 3D proyectado en un contexto de escenario amplio creando una poderosa presencia abstracta frente a un público que lleva gafas 3D polarizadas. Otros dos canales Watchout más alimentan las pantallas LED que flanquean el escenario. Para crear los efectos de iluminación en los cuatro teclados iluminados de gran tamaño, un controlador de video LED Pixel-gate utiliza una salida DVI adicional desde la pantalla principal con la función 'Tier' del Watchout. La línea de tiempo principal en el Watchout atrapa el código de tiempo de los sintetizadores de Kraftwerk (MTC convertido en SMPTE). Los sintetizadores de Kraftwerk también se utilizan para la interacción visual en directo controlada a través de comandos MIDI.
Las nuevas características de la versión 5 de Watchout permiten la manipulación de contenidos en directo. Los objetos multimedia se pueden posicionar, rotar y mover en 3D en tiempo real desde sistemas de control externos, instrumentos musicales, consolas de iluminación, dispositivos móviles y sensores para el control de elementos en pantalla como imágenes, vídeos, películas 3D estereoscópicas y transmisiones en vivo según se necesite.
Fredrik Svahnberg, Marketing Director Dataton, said: "Kraftwerk are known for their use of graphics and bright colors. They are using our technology in a very easy way to use, yet powerful way to capture the attention of audiences around the world. We are looking forward to seeing Kraftwerk use the new features 3D streaming multimedia, interactive and dynamic of Watchout in 2013 and a posteriori ".
Concerts in Düsseldorf and London
Los próximos conciertos de Kraftwerk van a incorporar efectos 3D estereoscópicos, así como sonido 3D. La primera actuación del grupo germano en la ciudad alemana de Düsseldorf desde 1991, llamada '1 2 3 4 5 6 7 8' se celebra en el museo Kunstsammlung Nordrhein-Westfalen desde el 11 al 13 de enero, y del 16 al 20 del mismo mes. Al igual que en los shows del MoMA, Kraftwerk tocará un álbum cada día y estará acompañado por imágenes en 3D que logran interactuar con el público.
In London, Kraftwerk will perform at the Turbine Hall of the Tate Modern for eight nights, between 6 and 9 February and 11 to 14 of the same month, and it is their first live performances in the city since 2004. Thames band will present a new album full every evening study and combined with visual backdrops, including projections and interactive 3D animations.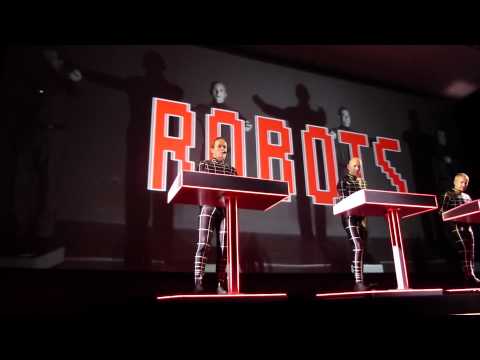 Did you like this article?
Subscribe to our RSS feed and you will not miss anything.
Other articles on Dataton