Brussels and Wallonia tourism creates an interactive kiosk that invites you to discover its charms
Thinking about the needs of newcomers to target tourists, the Tourist Office of Belgium: Brussels and Wallonia, in collaboration with JCDecaux, have mounted Brussels airport an interactive kiosk that allows newly landed tourists in the Belgian capital to discover the attractions of the French-speaking part of the country.
Brussels International Airport has installed in the room baggage care kiosk tourists combines traditional brochures with touch screens and web access, according to the journal Informa BTL.
As part of a promotional campaign of the Tourist Office of Belgium: Brussels and Wallonia (WBT) in the Brussels airport you have installed a column with the colors of the Belgian region provided with three touchscreens and brochures inviting travelers arriving Belgian capital to find out where to eat, where to stay, what to see, but also allows them to plan excursions and learn about the events held during the week in the area.
The focus for tourists is completely autonomous, ie not need someone to distribute flyers or explain its operation. It is intuitively designed so that virtually anyone can use it.
The kiosk, designed by the agency JCDecauxIt offers news magazines, integrates touch screens and add interactive tools such as QR codes for users to download more information via their mobile devices.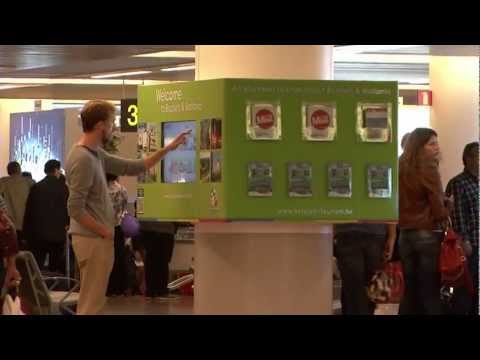 Did you like this article?
Subscribe to our RSS feed and you will not miss anything.
Other articles on JCDecaux