ASB Glassfloor converts, thanks to the LED, any premises in a multipurpose Court
The German company develops an interesting system based on LED that, under an alloy of aluminum and glass, ceramic tile floor, allows you to modify lines and markings according to the sport that takes place.
On the basis of an alloy of glass, ceramic and aluminium, the German company ASB Glassfloor has developed an interesting system based on LED capable of convert any enclosure sports in a court multipurpose.
This solution allows to trace the lines of the courts of any sport in function settings of a track that choose you from a touch-screen, tablet or PC.
On the other hand, all the plates can be turned easily by modifying the surface if you want to use the site for other non-sporting purposes. Them plates can change is with utmost ease, what makes of the space where is place this surface a room versatile, whose appearance can modify is when the Center sports hostel other type of events.
ASB developed this solution after observing that the floor of the squash courts, which is usually translucent, could combine with the LED lighting to create lines of light which would be invisible when they were off.
The own soil is an aluminum frame that supports the glass which is tempered to resist breakage, which means that the panels can be much larger and thinner than traditional glass tiles as those who were once famous in Saturday Night Fever.
In addition, to get a feeling of a floor of parquet traditional, the glass is covered with tiny points of ceramic.
Instead of the lines of paint on a surface of wood, the plant uses a layer of LEDs below the glass. The LEDs can set up lines or brands, or serve as a screen to insert advertising dynamic in the own floor.
In addition, attached to a motion detection system could signal offsides, fouls, or ghost plays in sports like tennis or football.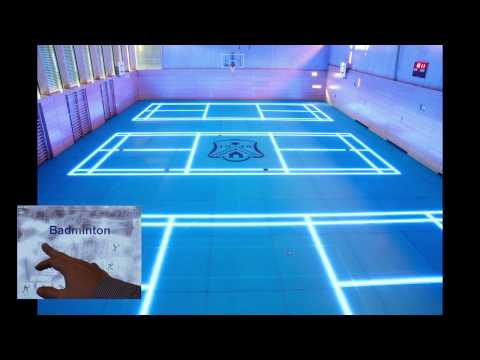 Did you like this article?
Subscribe to our RSS feed and you will not miss anything.
Other articles on ASB Glassfloor