Advantech comes of full in the market of screens intelligent and the industry of the game with the purchase of GPEG
The Advantech industrial equipment manufacturer has signed an agreement to acquire the British company Intelligent Display GPEG, a provider of smart displays for the gaming industry.
With the acquisition of Intelligent Display GPEG, Taiwanese supplier Advantech not only enhances its position in the digital signage market, but adds additional elements to grow in the area of ​​smart displays, and specifically in the European game industry.
Como ha explicado KC Liu, presidente de Advantech, "en vista de la tendencia global hacia ciudades inteligentes y la I/O, la pantalla inteligente será la interfaz de usuario más importante en el futuro cercano. Advantech es muy optimista sobre su potencial de desarrollo en este mercado, que con la fusión de Intelligent Display GPEG esperamos acelerar el desarrollo de productos, aumentar la fuerza de ventas y liderar el crecimiento del mercado de pantallas inteligentes".
Aunque Advantech ya cuenta con equipos de ventas y de desarrollo de productos en Europa, Liu ha puntualizado que "es difícil dirigirse específicamente a las necesidades del cliente hasta que estemos muy familiarizados con la industria del juego. Tras la fusión, esperamos aprovechar al máximo la experiencia de GPEG en el mercado profesional europeo y combinarlo con el marketing global existente de Advantech y nuestros equipos de ventas para ampliar el mercado de las pantallas inteligentes en Europa".
The company also will integrate GPEG product sales and professional design with -Gaming Advantech Innocore resources, acquired in 2010, to provide the European gambling market complete solutions and embedded systems.
After the merger, the team Intelligent Display GPEG, including sales, will be part of the Embedded Computing Group of Advantech division under the name of Advantech GPEG and under the responsibility of that until now was executive director of the British company, Nick how.
The new Advantech GPEG focus its strategy on the development of specific monitors for each vertical business segment, especially for gambling, casinos, etc., custom applications, as shown in the video.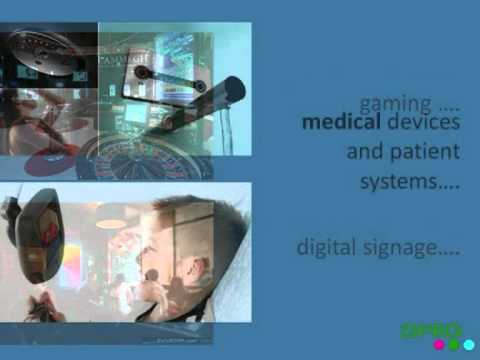 Did you like this article?
Subscribe to our RSS feed and you will not miss anything.
Other articles on Advantech, Intelligent Display GPEG