Robe Lighting, awarded at LDI 2013 by his light show designed by Nathan Wan with the Pointe system
The participation of Robe Lighting the event of dramatic lighting LDI 2013, from 22 to 24 November in Las Vegas, has been very positive both for the reception of new company developments among professionals as to achieve the award for 'Best Design stand big 'of this exhibition.
The Czech manufacturer of lighting equipment Robe Lighting has completed successfully and awards its participation in the exhibition LDI 2013, which closed its doors last November 24 in Las Vegas Convention Centre, where he received the award for 'Best design large stand' at the awards granted by organizers this contest.
With a spectacular light show designed by Nathan Wan, stand Robe in this American exhibition, fully decorated in white, has been one of the most visited by lighting professionals and events, they wanted to see the operation first of Pointe , a new mobile multipurpose and bright light, centerpiece of this show of lights.
Anolis, LED high quality brand Robe for architectural lighting, was also integrated into the design of the stand and was used to illuminate the lounge and meeting area at one end of the space, creating a perfect solution to enhance its presence and show the symbiosis with Robe. Stand in the middle of an area of ​​very busy active demonstrations were also formed throughout the contest.
The light show Nathan Wan was initially planned to be shown every hour, but due to high demand interval was reduced to run every half hour.
Como señala Harry von den Stemmen, director de ventas de Robe, "estamos muy orgullosos por haber ganado el Premio LDI. Fue extremadamente merecido, ya que Nathan, que es un gran diseñador de iluminación, realizó una creación fantástica que recibió numerosos cumplidos, incluso de muchos otros diseñadores de prestigio".
Other innovations presented by the company have been Robin MiniMe, a luminaire LED dynamic effects with full video output; along with CycFX 8 Cyclone, MMX Blade and parfect 100 systems, which caught the attention of an increasing number of visual designers and lighting, as well as leading rental companies, to the extent that sold all the products that were in the stand.
LDI 2013 was also the first event that has had the presence of Bod Schacherl, recently appointed CEO of Robe Lighting, whose popularity and contacts in the industry has gathered many professionals stand to congratulate him on his new responsibility.
Given the growing number of Latin American professionals who have come to this event and expressed interest in the brand, Latin Robe made a special event that included several distributors in Central and South America and the Spanish-speaking world.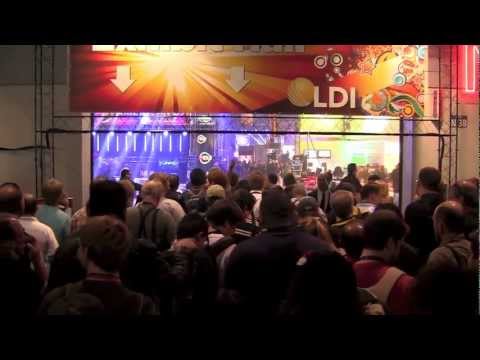 Did you like this article?
Subscribe to our RSS feed and you will not miss anything.
Other articles on LDI2013, Robe