The EU appreciates the initiative Think Big School as a model to promote the digital training
Fomentar la capacitación digital y la innovación en el uso de las tecnologías digitales por parte de profesores, estudiantes y colegios como herramientas clave para acceder al empleo en Europa son las bases de la iniciativa Think Big School, de Fundación Telefónica, Mozilla y Technology Will Save Us, cuyo modelo ha sido especialmente valorado por la Comunidad Europea.
Telefónica y la Comunidad Europea, con la colaboración de Fundación Mozilla and Technology Will Save Us, son los responsables de la iniciativa Think Big School in the International School de Bruselas (ISB), que ahora da un paso más en el entorno europeo y pone de manifiesto su compromiso para dotar a las nuevas generaciones del conocimiento y la confianza necesaria para "ser más" en el mundo digital.
Think Big acaba de presentar esta iniciativa en Bruselas, ante la Comisaria de Innovación, Máire Geoghegan-Quinn, con el objetivo de acelerar el proceso de transformación digital en Europa, convirtiendo a los actuales usuarios de tecnología en sus futuros desarrolladores. Esta presentación se produce tan sólo dos semanas después de la intervención Eduardo Navarro, recientemente nombrado director general comercial digital de Telefónica, en la Convención de la Innovación, durante la cual se analizó y debatió sobre la relevancia de la formación digital.
Esta iniciativa, realizada en colaboración con la ISB, ha propiciado la generación de un entorno internacional para compartir conocimiento y debatir la posibilidad de mejorar, integrar y acelerar la innovación, respaldando así las repetidas "llamadas a la acción" emitidas por la Comunidad Europea para convertir a la 'generación Z' en la 'generación de la innovación' en Europa.
Think Big se enmarca en una campaña paneuropea más amplia de apoyo a la formación digital, en la que Telefónica y Mozilla realizarán proyectos conjuntos durante el presente año. Además, con la creación del denominado curriculum Think Big, esta iniciativa se convierte en un verdadero programa digital educativo y paneuropeo, en colaboración con más de 150 socios, que surge con el objetivo de que los jóvenes mejoren su capacitación digital y aumenten las posibilidades de acceder a un empleo.
Máire Geoghegan-Quinn fue la responsable de entregar los premios a las mejores ideas durante este evento y elogió el programa impulsado por Telefónica, que valoró como un modelo innovador para desarrollar la capacitación digital en Europa. Además, instó a los estados miembros a "trabajar de la mano de compañías como Telefónica con el objetivo de desarrollar un curriculum digital y transformar la experiencia en los colegios".
Por su parte, el consejero delegado de Telefónica, José María Álvarez Pallete, subrayó que "estamos convencidos de que sólo podemos asegurar una Europa más próspera si se dan oportunidades a todos, dotándoles de las capacidades necesarias para utilizar todas las posibilidades que aporta el mundo digital. Think Big, Wayra y Talentum son los tres pilares en los que se basa nuestra transformación, cuyo objetivo es apoyar a los emprendedores pero, en última instancia, es la autonomía y el poder de sus ideas, especialmente las que giran en torno a la innovación digital, las que pueden cambiar el panorama europeo. Esta es una aspiración puede y debe enseñarse en los colegios".
En esta línea, Fundación Telefónica ha presentado la tercera convocatoria de Think Big, a la que pueden presentarse todos aquellos jóvenes, con una edad comprendida de 15 a 26 años, que tengan una idea con fin social que beneficie a la comunidad y que sea desarrollada en España. El plazo para presentar estas propuestas estará abierta hasta el próximo 20 de mayo, tal y como se explica en el vídeo adjunto.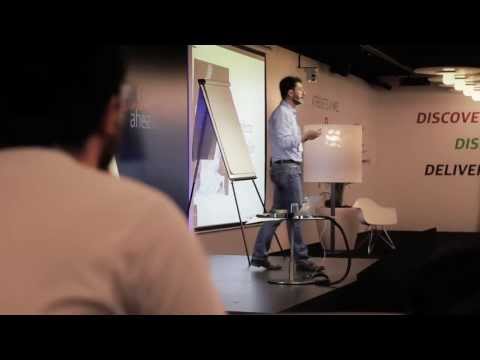 Did you like this article?
Subscribe to our RSS feed and you will not miss anything.
Other articles on

Comunidad Europea

, Espacio Fundacion Telefonica,

International School Bruselas

,

Technology Will Save Us

, Telefónica,

Think Big School