Cubensis creates an Assistant virtual interactive for the pharmaceutical Grünenthal
The virtual assistant Cubensis has created for the German firm Grunenthal provides information on programs and services of the company and allows employees to interact with it.
At the beginning of 2014, the German pharmaceutical company Grünenthal commissioned to Cubensis, company dedicated to the creation of multimedia applications for advertising, live entertainment, museums and presentations, the development of an interactive virtual hostess.
With this objective, Cubensis has developed this creation holographic to them users can interact with she, since its objective is that them report on them different activities and programs that the company is doing. To do this, they created a touch interface where users can go browsing and accessing the different themes.
This hostess also has the particularity of having to communicate the messages in five languages (English, Spanish, German, Dutch and Italian) for what has been the voice of the actress Yurie's cross.
Currently, this virtual assistant is making a tour of different locations of the pharmaceutical Grünenthal.
One of the main areas in which focuses Cubensis is the creation of holographic assistants, development that offers the possibility to update your content in real time and allows the incorporation of a presence sensor to launch messages. The interaction is another of the characteristics of this solution which is performed through a touch interface, ability that has been a pioneer in this type of development which has been working since 2010.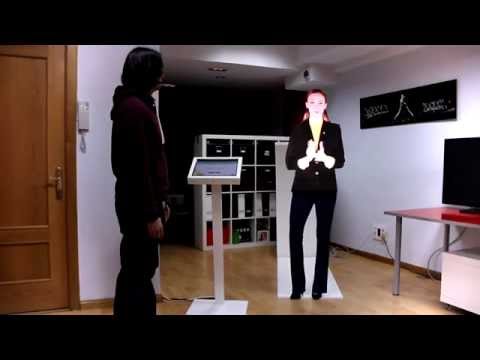 Did you like this article?
Subscribe to our RSS feed and you will not miss anything.
Other articles on Cubensis