Trinity University used digital signage to guide prospective students
An interactive MultiTouch MultiTaction table has been installed in the Office of admissions of the University Trinity from San Antonio to show prospective students the different educational options that have to choose and which is the one that better fits their skills.
Prospective students and their families routinely make a stop by the welcome of the universities Center for informed of the educational offer and the different services offered by the centers. Trinity University in San Antonio (Texas) wanted to create something that was memorable and that will involve students and parents alike. This is why he decided to make an interactive experience that is entertaining, at the time that guide their training options to prospective students.
To develop this solution of digital signage opted to install the table MultiTaction of MultiTouch that includes a 55-inch screen that provides an interactive accessible platform so that prospective students can explore different academic options offered by the University of San Antonio. Designed with the Enriched Reality of MultiTouch technology, the screen is able to recognize objects that are placed on it, thanks to the 2D bar codes that incorporates.
This vision system software has been done by MultiTouch and creative design firm Push Offices He has been commissioned to develop 25 cards that can interact on the screen.
When the user placed a card on the screen, the application reads the barcodes and relationship information that incorporates the content that is loaded into this interactive table, including issues such as areas of study, information about the campus, activities and educational opportunities offered at Trinity College.
Each card includes a quote from a famous character and pioneers in their field, like this one from Steve Jobs: "design is not just what it looks and feels. Design is how it works". When the letter is placed on the screen, it shows the academic fields related to the design, the history of art, engineering and science, as well as members of Trinity College faculty who teach in these areas.
"The installation of Trinity College provided an exciting opportunity to work with MultiTouch. Enriched Reality of MultiTaction technology has allowed us to create software that integrates seamlessly with the display to inspire visitors and students who come to the University Guide", explains Éric Boisvert, managing partner of Push Offices.
"La aplicación de la Universidad de Trinity es una forma innovadora de utilizar la tecnología Enriched Reality con las pantallas interactivas de MultiTaction. La tecnología está completamente oculta a los usuarios finales que utilizan intuitivamente las tarjetas para interactuar con la aplicación de visualización. Esta instalación convierte una de las decisiones más importantes en la vida de un estudiante en una experiencia atractiva e inmersiva ", comenta Timo Korpela, gerente general de MultiTouch.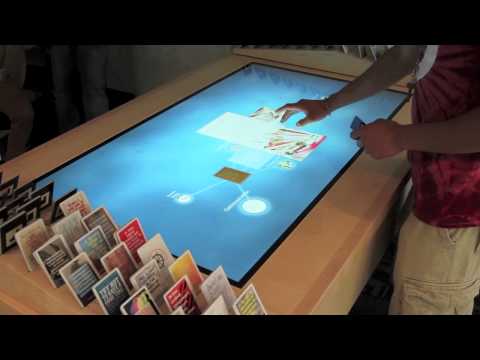 Did you like this article?
Subscribe to our RSS feed and you will not miss anything.
Other articles on MultiTouch, Push Offices