Lowe Holoroom, Simulator 3D augmented reality for reforms in housing and offices
Lowe Holoroom simulator is possible to know how the reform will be a house or any stay before restore. Its designer, Lowe's Innovation Labs, has used augmented reality technology in 3D to provide customers an intuitive and immersive experience that allows them to see what would be the room of your dreams.
Lowe is a company dedicated to the installation and repair of homes, shops and offices. In order to get your customers to perceive in a way closer to reality how they can be improved or you want to make the products you want to implement the research team Lowe's Innovation Labs Holoroom developed. "For many homeowners, visualize a project home improvements or share that vision with others can be difficult. Our solution enables Holoroom do, "says Kyle Nel, CEO of Innovation Labs Lowe.
For the implementation of this project, Lowe Innovation Labs with the collaboration of engineering and futuristic concepts SciFutures who he helped design the interface and graphics Holoroom.
Lowe Holoroom is a solution that combines the use of an iPad and a display system that uses augmented reality technology in 3D to get the customer to perceive reality nearest way how certain products or improvements would at home.
The customer is introduced into a virtual room 6 × 6 meters, specially designed for this project, and begins to interact through the tablet, with a vision of 360 degrees, as would the changes you want to make furniture, renovations, decoration new colors on the walls, floors change ... After this can be a drawing 3D design they have been made since the iPad.
This type of simulation is not new but it is the environment that has led Lowe and immersive experience it provides. Holoroom is not a project but a solution that Lowe is installing Toronto stores. The first initiative only allows you to plan the bathroom remodeling but the company intends to expand the project in the next 18 months and this simulation to other rooms of the house.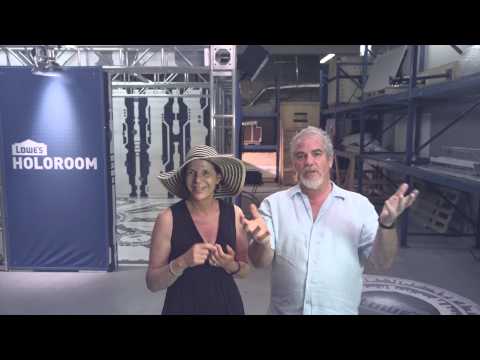 Did you like this article?
Subscribe to our RSS feed and you will not miss anything.
Other articles on Lowes Innovation Labs, SciFutures