Starts the dLive Roadshow 2016 with demonstrations in Madrid, Barcelona and Valencia
During the month of February, Lexon Distribution organized in Madrid, Barcelona and Valencia few days of demonstration of the new digital mixing system for direct dLive, Allen & Heath.
Lexon distribution dLive organize Roadshow in February 2016, a series of briefings focused on the new digital mixing system for direct dLive, of Allen & Heath.
This system has risen final mixes a huge buzz in the market configured as a solution with all the tools and power for the most demanding engineers, and flexibility and capacity to network needed to face any situation. In these sessions the new Qu-Chrome and GLD systems, also Allen & Heath is also displayed.
dLive is based on an ultra flexible architecture a powerful FPGA processing core and a multitude of expansion options, control and network connectivity, plus intuitive user interface Harmony, which includes gestural control.
The core of processing 96 k / 96 bit XCVI Core has a capacity for 128 entries with full processing and 16 returns of stereo processing, with a total of 160 tickets for mixing and an architecture of 64 fully configurable mixing bus user. dLive incorporates the full package of DEEP processing, which includes EQs, compressors, compressors multiband and dynamic EQ, along with the 16 virtual racks of processing, including the superb emulations of effects of Allen & Heath.
Following the concept already used previously in his other digital mixing systems, dLive has an architecture where rack mixing (MixRack) and the control surface are separated. DLive processing the system is hosted on the MixRack, available in three formats (DM32, DM48 and DM64) and three control surfaces. All MixRacks and surfaces are supported (work together nothing connecting them), with common configuration and support files show.
Madrid, Barcelona and Valencia
The presentations will be held in Madrid on 2 and 3 February in the TAF room. On Tuesday 9 February will be the turn of the presentation in Barcelona, ​​at the headquarters of Lexon Distribution in Barcelona. Finally, on February 23 this first cycle of presentations will be closed in the room Fussion Valencia.
In all three cases, the format of the presentations will be based on an open day from 11 to 14 and from 15 to 18 hours, with Sessions "hands on" which will run throughout this time at the request of the attendees. System presentations will be offered at 11 and at 17 hours.
During the sessions digital consoles Wh-Chrome and Chrome GLD are also displayed. The first is a compact unit that redefines digital mix combining innovative design and exceptional, along with the advantages of the possibility of rackmount functionality. Meanwhile GLD Chrome offers a new version of the popular mixers GLD addition to cosmetic changes, including significant functional changes, such as the presence of the Auto Mic Mixing function.
After Madrid, Barcelona and Valencia, Lexon Distribution announce new dates for other cities like Bilbao or Seville.
dLive Roadshow 2016

MADRID
Tuesday 2 and Wednesday 3 February
TAF hall
Fresadores, 35 P.I. Valdefuentes
Arroyomolinos - Mostoles West (Madrid)

BARCELONA
Tuesday, February 9
offices Lexon
Rios Rosas, 40
Cornellà de Llobregat (Barcelona)

VALENCIA
Tuesday, February 23
Sala Fussion
Street Sports 23
Massanassa (Valencia)

The schedule of these sessions is 11 to 14 hours and from 15 to 18 hours. Sessions "hands on" will continue throughout this time to demand from the audience. System presentations will be offered at 11 and at 17 hours.

Limited capacity. Seat reservation, here.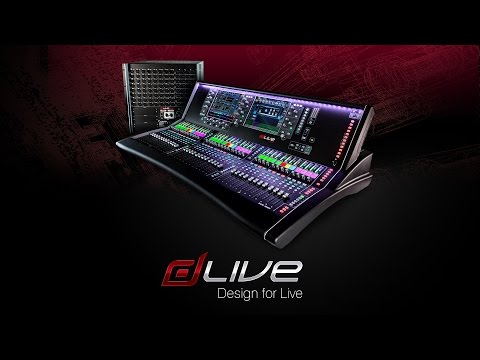 Did you like this article?
Subscribe to our RSS feed and you will not miss anything.
Other articles on Allen & Heath, Audio-Technica Iberia