Aver EVC950: multipoint video conferencing for large rooms or auditoriums
Aver EVC950 video conferencing solution designed for large conference rooms and auditoriums. It allows to connect up to 10 locations, enjoy Full HD video and share content.
The EVC950 of Aver, whose mark distributed Visual Cramb, offers a high return on investment, since users can connect from a PC, laptop, tablet or mobile phone through the AVer EZMeetup software. When you use this solution with the collaborative application of annotations Aver EZDraw, it is possible to access a variety of interactive tools.
The EVC950 is easy to set up and use, and offers a great interoperability with other brands, admitting Full HD 1080 p video conferencing between a maximum of 10 locations with a resolution. This cost-effective embedded MCU provides fluid video transmission and is ideal for companies that need a communication of high quality between multiple locations.
This solution integrates a Full HD PTZ camera that offers optical 12 x zoom, 1 digital zoom, 5 x, horizontal panning of +/-130°, + 90° vertical Pan / - 25 °, approach fast automatic and crisp close-ups of attendees.
The change of design of the EVC950 voice activated allows you to automatically enhance the image of the main partner, what makes the Conference more natural showing clearly who has the floor and ensuring that the participants was not interrupt each other without wanting to.
Video conferencing of the EVC950 can be recorded directly on a drive USB flash, including video, audio, and shared content, and regardless of whether it is on or off line, which makes the maintenance of records of conferences is very simple. Recorded lectures can be played back using an EVC950 or via a PC or laptop using the software Aver VCPlayer.
Using EVC950 with annotations EZDraw collaborative application allows users located in each of the locations, can write text, underline or draw on the same document, which improves the flow of debate and achieve a common understanding.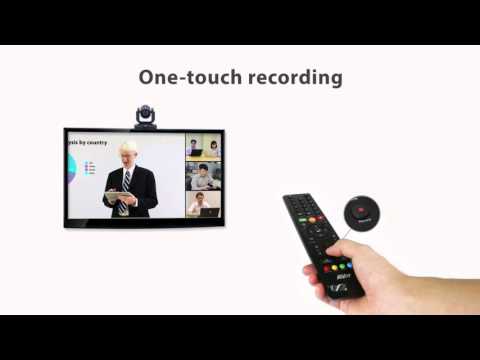 Did you like this article?
Subscribe to our RSS feed and you will not miss anything.
Other articles on AVer, Crambo