Christie helps to show, in a virtual environment, how will be the car of the future
Para la experiencia que ofreció Continental AG en IAA se utilizaron dos proyectores Christie Boxer 4K30 en modo tándem para mostrar en tiempo real imágenes 3D, el software Unity 3D para crear el contenido, que se proyectaba en una pantalla de 3,40x 2,25 metros, y un sistema de rastreo basado en marcadores, con cuatro cámaras Trackpack/E de Art, para hacer interactiva la simulación.
El grupo de empresas de automoción alemán Continental AG lleva tiempo volcada en el desarrollo de tecnologías que respondan a los conceptos de conexión, seguridad y eficiencia. Dentro de esa línea ha creado una serie de componentes que son los precursores de la conducción conectada y automatizada.
La última edición del Salón Internacional del Automóvil de Fráncfort (IAA), que se desarrolló bajo el eslogan 'Mobility connects' (la movilidad conecta), fue la ocasión para que está empresa presentara The Future in Motion (El futuro en movimiento). Y, para ello, utilizó lo último en tecnologías de rastreo. Los visitantes pudieron experimentar con una serie de simulaciones de realidad virtual con conceptos como HMI (Interacción hombre-máquina) o conectividad holística.
En la simulación que se ofreció, el usuario podía optar entre tres identidades: un hombre de negocios sudcoreano, un estudiante estadounidense o una familia con dos niños. En este entorno, la cabina virtual se adapta al personaje elegido para dar la la sensación de estar sentado en el coche.
La demostración muestra cómo estos sistemas inteligentes se adaptan a las necesidades individuales del conductor y ajustan de manera automática elementos como la posición del asiento o la temperatura. Además, una animación aconseja, mientras se conduce, sobre las maniobras a efectuar en situaciones de tráfico complejas.
La conceptualización del proyecto fue obra de la empresa de producción multimedia Milano Medien, mientras que el partner de Christie e integrador de soluciones de realidad virtual 3D, 3Dims, suministró e instaló el equipo necesario, y Velten los proyectores.
Para esta experiencia se utilizaron dos proyectores Christie Boxer 4K30 en modo tándem para mostrar en tiempo real imágenes 3D en proyección estéreo pasiva.
El equipo de Milano Medien recurrió al software Unity 3D para crear el contenido a proyectar en una pantalla de 3,40 metros de ancho por 2,25 de alto, con PCs de alto rendimiento como servidores de playout.
Un sistema de rastreo basado en marcadores, con cuatro cámaras Trackpack/E de Art, fue utilizado para hacer interactiva la simulación. Los usuarios pudieron 'conducir' el simulador con gafas VR de rastreo y un 'Flystick 3' inalámbrico. Con gafas 3D menos sofisticadas, otros visitantes iban contemplando el avance de los usuarios por el mundo del mañana proyectado en la pantalla.
"Aunque trabajamos con retroproyección estándar, que no ofrece especiales dificultades, había algunos obstáculos a superar para lograr que esta aplicación 3D se convirtiera en realidad. Uno fundamental era el de la limitación espacial. Necesitábamos proyectores pequeños, compactos, fáciles de transportar y que ofrecieran resolución 4K y una gran potencia lumínica", explica Alexander Gräf, jefe de Desarrollo de TI de Milano Medien.
Al usarse en un entorno en el que la luz ambiente no estaba totalmente controlada, se precisaba una imagen muy brillante. "Para garantizar la mejor calidad de imagen necesitábamos un display realmente brillante y eficiente lumínicamente, de 30.000 lúmenes o más. Nos decantamos por Christie Boxer 4K30 ya que ofrece un ruido de funcionamiento muy reducido para las prestaciones que ofrece. Su baja generación de calor era un plus, pues nuestras opciones de instalar un sistema de refrigeración que se adaptara a los proyectores eran bastante limitadas", comenta Gräf.
En cuanto a la resolución, las capacidades 4K del proyector Christie Boxer fueron otro factor decisivo. "Exploramos tres opciones con el cliente: 2K, 2.5K y 4K. Sin embargo, para asegurar la mejor legibilidad en todos los displays y los mensajes de la cabina virtual, precisábamos resolución Full 4K", concluye Gräf.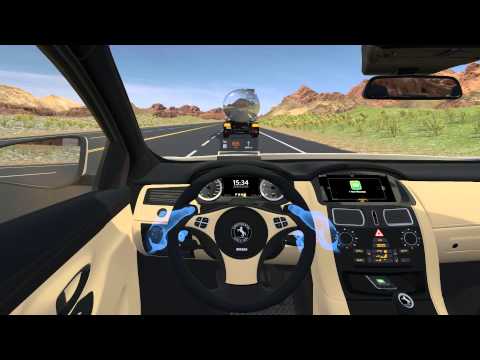 Did you like this article?
Subscribe to our RSS feed and you will not miss anything.
Other articles on

Art

, Christie,

Milano Medien

,

Unity