Microsoft Research goes one step further in reality augmented with the Holoportation project
The research Interactive 3D Technologies from Microsoft Research Group has shown the progress of its new project of augmented reality with 3D cameras, linking all the elements of a space to have holographic presence anywhere.
While it is under development and much remains to be defined, the Holoportation project is one further step on the part of Microsoft Research, and in particular of its division Interactive 3D Technologies, for combine reality virtual with technology 3D and holographic, only view until now in films as ' Star Wars' and some series of science fiction.
As explained from the company, "Holoportation is a new platform for 3D capture that allows you to create, compress and transmit three-dimensional models of high quality via the web in real time".
To understand better its operation, Microsoft Research has published a video, in which also is patent it much that is still by define so this technology can apply is from any part.
To achieve this holographic 'transportable' presence, the system combines with multi-camera 3D Holographic Windows platform and sensors Kinect installed in a square room for capture, modeling and display holography 3D from the same person who is in the room with a high level of precision in his holographic 'transportation'.
This augmented reality system captures every angle, element and movement of the room transforming 3D models in real time with which you can interact, for what Hololens of Microsoft glasses is required. One of the advantages of this experiment is that it is possible to record the scene to play when you want, and change the size of holograms for viewing from different perspectives.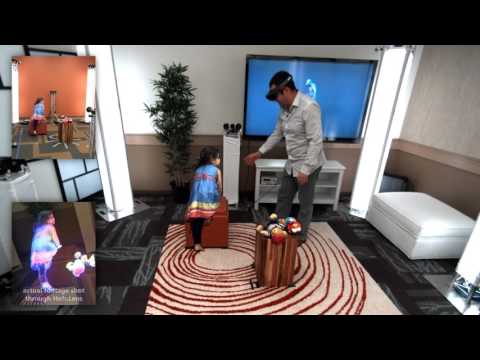 Did you like this article?
Subscribe to our RSS feed and you will not miss anything.
Other articles on Microsoft, Microsoft Research