Vogel's opens its showroom to deliver more value to customers and partners
The manufacturer of audiovisual media and imaging equipment and sound has opened a showroom in the Dutch city Eindhoven, where his professional proposal shown to provide added value to its partners and customers in the brand awareness and functioning of their solutions.
Having recently opened its new headquarters in the center of Barcelona (more details on Digital AV Magazine) Vogel's He has now announced the opening of its showroom in the Dutch town of Eindhoven to offer customers, partners and professionals in the audiovisual market an open space in which to know in detail its range of professional products and presentations.
Interestingly, the same location as forty years ago was destined to join the first products of the Dutch manufacturer now houses the new showroom Vogel's Professional, with over 200 square meters to display the entire portfolio and professional experience and try the solutions .
The showroom, with an industrial design, is structured in different areas to show in detail brackets for plasma, LCD, LED, videowall, projectors, tablets and imaging equipment and sound, with different mounts, wall, ceiling or suspended, as well as facilities for vertical markets (see attached video).
Configuration Tool Pro-AV Mount Advisor
The company has also introduced its new configuration tool Pro-AV Mount Advisor, updated with all Vogel's solutions, including systems for videowall, with which users can set the one that best suits your needs and projects quickly and simple.
This new service of the company is very intuitive and easy to use, just select what kind of product we need (screen, projector, tablet); select the model, size and weight; the (vertical or horizontal) position and type of installation (ceiling, floor, wall, suspended, ...) with the possibility of also choose optional accessories to enhance the configuration.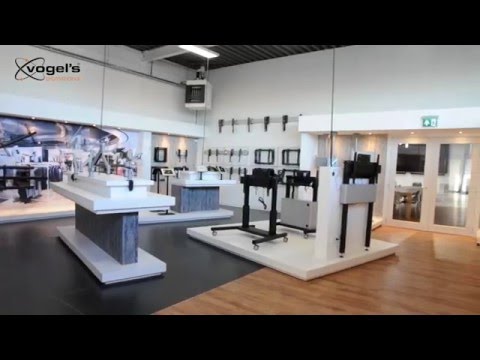 Did you like this article?
Subscribe to our RSS feed and you will not miss anything.
Other articles on Vogels