Fundación Telefónica makes a musical piece the biorhythms of Teresa Perales
This technological project, which combines music and sport, wanted to highlight what happens in the body of the Paralympic athlete in the water. To this end, it has equipped the swimmer sensors that measure a number of parameters, variables which have become musical notes to compose a melody.
The Fundación Telefónica introduced a pioneering technological project in Spain that features the swimmer Teresa Perales and that is to convert the biorhythms of the Paralympic athlete in a track yesterday.
In this initiative have been involved the producer ZISSOU, Pablo Nieto director and composer Pablo Palacio. They have been the architects of creation 'Symphony Teresa Perales. Anatomy of a stroke '. An experiment that has allowed convert a complex and sophisticated elite athlete Paralympic movement in sound structures.
The project has sought to highlight what goes into your body in the water and this has been passed in a very intuitive way using sonification. For this experiment has provided the swimmer sensors that measure a number of parameters that are converted into musical notes to compose a melody.
The venue chosen for the experiment has been the Olympic pool Real Club Canoe in Madrid that has become a gifted set with the latest audiovisual and digital technology: a computer, several sensors external and underwater vision, two cameras, one of underwater them.
Un equipo de 20 personas grabaron durante una jornada entera a Perales en la piscina, entre miembros de producción, cámaras, técnicos de sonido y de iluminación, maquillaje, grafistas y coloristas. El resultado fue la monitorización en tiempo real de un recorrido de 100 metros, 169 brazadas, un plano secuencia de 2 minutos y un total de 84.750 datos, recogidos en dos lenguajes de programación, que la productora Zissou convirtió en una pieza audiovisual y el compositor Pablo Palacio en música sintética.
Multimodal and visual aesthetic experience

El experimento arroja unos resultados científicos sobre el comportamiento de Teresa en el agua y según asegura Pablo Palacio se trata de un proyecto "superpotente que aporta documentación muy interesante para entender datos fisionómicos de la atleta y crea una experiencia estética multimodal y visual. El oído es un sentido con un mecanismo de detección muy potente y fino, que permite captar diferencias sutiles en un patrón, por lo que resulta muy útil para el estudio de fenómenos invisibles".
According says Lydia Loste, Communications Director Telefónica Foundation, "sonification is a commitment to a new way of counting projects and open new avenues of technological research in the field of communication. It is the first time an experiment of this kind, which combines sports, music and technology, is done in our country. "
For the director and creator of the audiovisual piece, Pablo Nieto, one of the most complex moments was the launch of Perales in the pool. "A traveling 60 meters was performed for the camera movement was perfect and she was always flat."
Sonification: the last challenge before Rio 2016

'Symphony Teresa Perales. Anatomy of a stroke 'is the last of the four challenges that Telefónica Foundation proposed its ambassador in the training plan prepared for him in 2016.
Con estos cuatro desafíos, que la acercaban a disciplinas como el cine, el cómic o la gastronomía, Fundación Telefónica quería apoyarla en su meta: batir el récord mundial en septiembre de 2016 en Río y superar las 22 medallas olímpicas. El primer reto fue 'Servicio técnico', presentado en marzo de 2016, un corto dirigido por Javier Fesser y protagonizado por Teresa Perales junto a actores españoles como Hugo Silva y Javier Gutiérrez.
The second challenge, in May 2016, was 'Teresa Perales, Comics' comic strip about Teresa free by 22 international Spanish cartoonists. And the third action in June 2016, was the presence of Teresa Perales in the TVE program Masterchef. The sonication was his last challenge before Rio.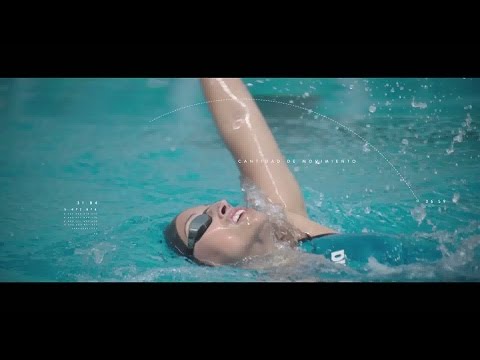 Did you like this article?
Subscribe to our RSS feed and you will not miss anything.
Other articles on Espacio Fundacion Telefonica, Telefónica