Interactivity marked the presence of Sono event Days 2016
Several technologies were combined in its stand as an interactive virtual scenario, a large format multi-touch Led display and other semi transparent. The first consisted of two Leds of high resolution screens: a 3, 9 mm and 4 × 3 meters, and another 2.6 mm and 3 × 2 m used the hologram.
During the 6th and 7th of July, 80 exhibitors have shown in Hall 1 of IFEMA Madrid, trends and developments in the sector in the tenth edition of Event Days, the showroom of the events organized by Group Eventoplusthat has brought together more than 2,600 professionals.
Sono He attended this event with solutions having as axis the interactivity and, with this aim, a space combining different technologies as a virtual stage, a large format multi-touch Led display and other semi transparent design.
The interactive virtual scene was one of the biggest attractions. In Sono I had done other holographic installations, as virtual Qeen performance in 'Sounds like your face', and on this occasion adapted the technology to be applied to an event, playing with perspective and depth.
The mounting virtual was formed by two screens of Leds of high resolution. In the background stood a 3.9 mm and 4 × 3 metres, and the hologram used another of 2.6 mm and 3 × 2 meters, as well as a special film that provides an image of high quality and a high level of contrast.
One of the applications that were shown at this stage consisted of a Keynote presentation on the sector of the events in Spain. In it, the great possibilities offered by this technology to get an original and novel presentation in which graphics and 3D elements appear, float on the move and interact around the rapporteur could be checked.
Interactivity was given by a Kinect camera. The producer Onionlab He was responsible for the designed and programming of this virtual offering a set of selectable holograms. With the movement of the hands, the wizard could choose which character wanted to transform itself and automatically chosen hologram followed all their steps and movements, floating in the air.
Multi-touch screen and semi transparent

Following the interactive proposals for presentation at events, Sono also showed a touch screen large format with different possibilities of interaction. "It is a led display of high resolution (2.6 mm) with an integrated laser that is capable of converting system in multi-touch any surface." "Programming through a content management system allows you to include all kinds of elements: text, images, videos, objects 3D... overlap of layers and play with them to create a completely personalized presentation", says Francesc Comabella, technical director of Sono.
Por último, en el exterior del estand varias pantallas Matrix de 31,5 mm formaban una imagen total de 21×3 metros. Se trataba de una pantalla semi transparente, muy similar a la cortina de Leds, que se puede emplear para la proyección de texturas o mensajes, a modo de decoración.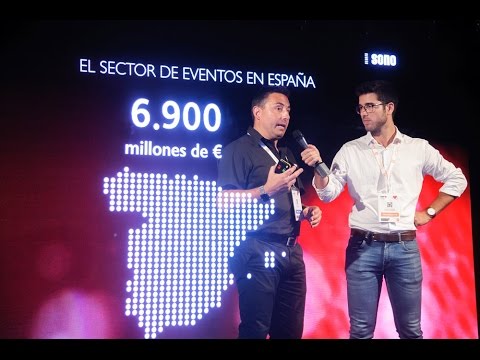 Did you like this article?
Subscribe to our RSS feed and you will not miss anything.
Other articles on Evento Days2016, Sono