With the drone Shooting Star, Intel creates choreographies of lights in the sky night
Using this aerial vehicle drive, the company has achieved a new Guinness World Record by raising 500 computers simultaneously in the night sky. A record that surpasses the previous, got less than a year ago, which put it in the air 100 drones flying at the same time.
Following the acquisition of MAVinci, Developer of software for flight planning, Intel It has expanded its proposal for the sector drones with a system designed specifically for light shows: Shooting Star.
Con Shooting Star, Intel quiere demostrar que los espectáculos de luz realizados con la ayuda de drones pueden redefinir y crear nuevas experiencias en el cielo nocturno. Además, recientemente, han realizado pruebas con estos equipos en Alemania, logrando un nuevo Guinness World Record con la mayor cantidad de vehículos aéreos sin pilotar (UAV) en el aire de forma simultánea. Para la experiencia elevaron 500 drones Intel Shooting Star al cielo de la noche y superaron su récord anterior de 100 drones volando al mismo tiempo, conseguido hace menos de un año.
Intel Shooting Star Drones have been designed with safety in mind and creativity, with a very light structure, made of plastics and flexible foams and screwless and virtually unlimited possibility of color combination.
This quadricóptero propellers are protected inside cages covered and all its facilities have been built to ensure safe flight, besides being a device splash proof and can fly with light rain.
This system is programmed, rides and handles easily, to create images choreographed in the night sky and provide a spectacular entertainment experience.
The Shooting Star Drone Intel uses a built Led lights can create more than 4,000 million color combinations based on red, green, blue and white LED. With a software interface and improved animation, now allows creating a light show in just a few days instead of the weeks or months that were required so far.
Algorithms, owned by Intel, can automate the process of creating animations using an image as a reference to determine the necessary number of drones, their placement and the fastest route to create the image in the sky.
The software also performs light shows a complete check of the fleet of drones before each flight, selecting the most optimized for each flight based on the battery life, GPS reception, etc.
Also, the entire fleet of drones Intel Shooting Star can be easily controlled with a single computer. The fleet size depends on the animation necessary and may involve hundreds of computers.
Acquisition MAVinci
With the purchase of this German company, Intel has increased its experience in software algorithms for flight planning, in addition to improving the capabilities for designing fixed-wing drones, complementing the technology and experience with Ascending Technologies.
According to Intel says this acquisition will have a prominent role in providing solutions for sectors such as agriculture, insurance, construction, mining, paper, etc.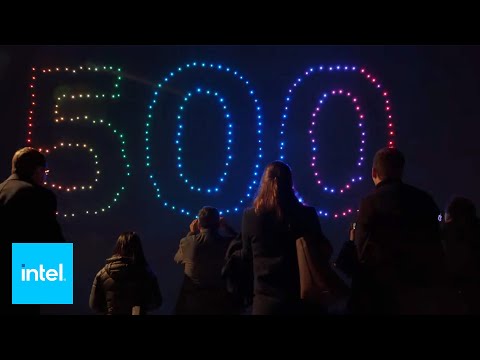 Did you like this article?
Subscribe to our RSS feed and you will not miss anything.
Other articles on Intel, MAVinci