Fluge about the AV industry's most innovative technologies in a market open days
virtual and augmented reality, videomapping, robotics and the latest developments in display, lighting and sound have been the protagonists of the event organized in Madrid aimed at customers, suppliers and technicians.
Under the name Flüge Understanding this audiovisual services company has organized open days aimed at customers, suppliers and technicians.
Este evento se ha desarrollando a lo largo de esta semana y ha tenido como objetivo "dar a conocer la empresa, cómo funcionamos y los servicios que proporcionamos y, por otro lado, tiene un carácter formativo, impartiendo seminarios, ponencias y cursos en las que ofrecemos formación de alto nivel y presentamos las novedades de las marcas con las que trabajamos y el funcionamiento de los equipos. Esta es la primera vez que lo organizamos pero nuestra intención es convertirlo en un evento anual ", explica Enrique Jiménez, responsable de Diseño y Comunicación de la compañía.
The journey of Fluge began 25 years focused on the sound of live music now and has evolved to become a company that offers global services lighting, sound and video, both for the event and for permanent installations.
Currently, it is present in different areas of the country (Madrid, Barcelona, ​​Ibiza, Valencia, Zaragoza and Galicia) and has expanded its field of activity outside Spain, to Shanghai, Doha and Panama. "Our expansion strategy will be aimed at getting closer to the customer to solve their problems in the fastest way."
For four days, aimed at institutions, professionals in the field events, permanent installations and entertainment training centers, technical and there have been demonstrations, courses and guided factory tours, becoming known the latest developments in the audiovisual sector, showing different developments increases and virtual reality, projections 360 and most innovative audio and lighting.
Fluge has also taken this opportunity to unveil its new scenic engineering department that focuses on developing projects that require special installations as.
Understanding Fluge was divided into four spaces with varied programming. In the Plató Louladi they took place P.A. demos, conferences, product presentations and workshops. In this environment the latest technologies exhibited in the audiovisual field with Led screens from different manufacturers and stands Stonex, Equipson, Meyer Sound, neotechnic, Showtex and UES (Robe).
In Hall 1 different papers, presentations and courses offered by EARPRO, neotechnic, DiGiCo, Trade Training, D.A.S Audio and UES were held. In the Rehearsal Room Trade different courses and an advanced training course they are scheduled ChamSys.
For the realization of this event, Fluge has transformed its facilities and created an environment where AV solutions have been the protagonists. Regarding the visual field the main stage had a 4.8 mm screen Gloshine in a format 7 × 4, also an information display CreateLED AirMag 2.6 mm-2 is also exposed with a size of 2 × 3 meters and other YESTech curve with dimensions 6 mm x 7 meters 3.
In the gateway and welcoming attendees a transparent screen Oled Lang Ghost-55-l that was exhibited for the first time in Spain was.
Audio infrastructure was managed by CL1 Yamaha consoles and Soundcraft provided by EARPRO Expression.
The most striking experience was the mappeado done on a car that was controlled via a touch screen from which you could change the look of the vehicle.
In the VIP lounge, augmented and virtual reality and robotics were the protagonists. In this area, attendees could try a Hololens augmented reality glasses and other virtual reality HTC Vive. Meanwhile, Casual Robots signature was present with two humanoid robot Pepper and telepresence.
Also, Fluge has also shown fixed you have made in one of its rooms, in collaboration with Cubensis with a videomapping large format where images are projected from two teams of Panasonic on a wall installation whose surface has been coated with a material glass forms a set of geometric shapes, where you could enjoy the audiovisual domotic installation of the plant, run by a Creston system.
The activities ranged from presentations offered Opera Sites and Martin Harman, to conferences and Cubensis Max Valley, Digico and demo presentations and training dot2 MA Lightning.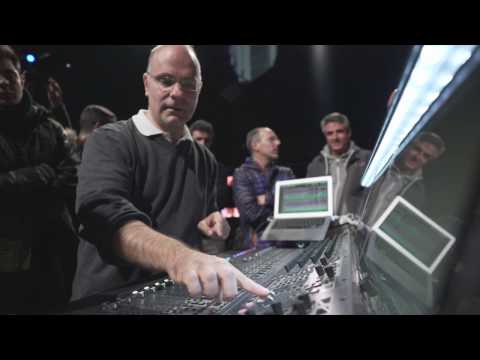 Did you like this article?
Subscribe to our RSS feed and you will not miss anything.
Other articles on Flüge
By
DRAFTING
• 25 Nov, 2016
• Section:
Audio
,
Control
,
Display
,
Distribution signals
,
Events
,
Training
,
Lighting
,
Projection
,
Augmented reality
,
Simulation