Movilok offers long lets a solution of two-way interactive digital signage
La solución Showcases se ha instalado en una pantalla que es visible desde el exterior y se ha convertido en un punto de interacción con los clientes que, desde un terminal móvil a través del navegador web o código QR, pueden acceder a los servicios ofertados por la inmobiliaria.
La empresa inmobiliaria Alquilares ha implementado la solución de escaparate interactivo Showcases de Movilok para optimizar la experiencia con los clientes. Se trata de una forma alternativa de dar a conocer sus servicios.
Esta ha sido integrada en la pantalla de TV que se encuentra en el interior del establecimiento con visión desde el exterior y que ahora se ha convertido en un punto de interacción con los clientes que pueden acceder a los servicios ofertados por la inmobiliaria desde el teléfono móvil a través del navegador web o escaneando un código QR.
Las soluciones tradicionales de cartelería digital que utilizan las inmobiliarias no ofrecen más que información sobre los productos o servicios en una sola dirección (pantalla-usuario). Con esta herramienta, Movilok ofrece a Alquilares una solución de digital signage interactiva y bidireccional que enriquece la experiencia del cliente ya que le permite interactuar con los contenidos expuestos.
Para esta empresa madrileña especializada en la gestión integral de inmuebles arrendados es muy importante atraer la atención de los clientes potenciales que necesitan alquilar o comprar una vivienda.
"Con Showcases hemos encontrado una forma alternativa de ofertar nuestros servicios desligándonos de lo tradicional y nos permite destacar sobre la competencia. Capta la atención de las personas que se detienen a contemplar nuestro escaparate de servicios, que en muchos casos son el último empujón que necesita el potencial cliente para entrar en nuestro establecimiento. Existe un porcentaje muy importante de potenciales clientes que, derivado de su juventud, están muy habituados a la interactividad con sus smartphones y tablets. Showcases encaja con los hábitos tecnológicos de este perfil de clientes", comenta Alcalde González, director de Alquilares.
Su facilidad de uso es otra de sus ventajas. La solución de Movilok funciona incluso sin que sea necesario descargar e instalar ninguna aplicación en el móvil, utilizando solo el navegador del teléfono.
Con esta solución de publicidad interactiva, el cliente puede seleccionar y filtrar contenidos, descargar detalles de las propuestas de la inmobiliaria, enviar información y todo ello en tiempo real. Además permite realizar visitas virtuales interactivas a las viviendas.
Este sistema de publicidad digital interactivo lo ofrece Movilok como un servicio en la nube a través de una suscripción periódica. El sistema recoge estadísticas de uso y consulta, permitiendo al propietario del escaparate conocer cuáles son sus productos o servicios más consultados y que despiertan un mayor interés.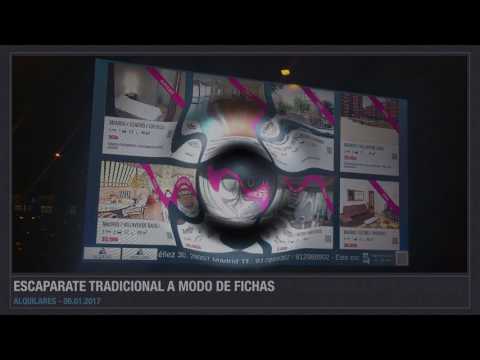 Did you like this article?
Subscribe to our RSS feed and you will not miss anything.
Other articles on Movilok