Global Robot Expo 2017 turns Madrid into the European capital of robotics innovation
For the second consecutive year, the Glass Pavilion of the Casa de Campo de Madrid hosts from today until February 4 the proposal of a hundred companies that appear in this international exhibition on robotics and related technologies, advances in artificial intelligence, IoT, virtual reality industry 4.0, chatbots, 'humanoid robots', among other proposals.
Global Robot Fair Expo 2017 (GREX'17) Opens today in the Glass Pavilion of the Casa de Campo in Madrid to show in its 8,000 square meters the latest developed and applied to robotics a hundred participating companies innovations, complemented with lectures by experts and researchers as well as side events, subject areas and use practices of robots, workshops, etc.
Entre otras autoridades, la ceremonia de inauguración del certamen ha contado con la presencia del viceconsejero de Economía e Innovación de la Comunidad de Madrid, Javier Ruiz; el embajador de Japón en España, Masashi Mizukami, y la secretaria general de Fundación Once, Teresa Palahi, que han sido recibidos por el CEO de GREX`17, Enric Forner.
As a sponsor of the contest, technological consultancy Altran presents advances in virtual reality applications for industry 4.0 machine vision systems applied to robotics, as well as the draft telepresence robots that are controlled by interfaces BMI (brain-machine) that they can be moved with the mind, and demonstrations of robots capable of simulating a chat with a person or chatbots.
Factory of the future and subject areas
One of the proposals of this edition has been the creation of a connected space and robotized by companies associated with the Ametic employers, called Factory of the Future, which has 142 square meters of exhibition space for demonstrations, plus a full program conferences and roundtables on solutions and services around this theme.
This industrial plant 4.0, space chosen to inaugurate today the edition 2017 of Global Robot Expo is sponsored by Altran, Asti, CT Solutions, ICEMD / ESIC, Instituto de Fomento Region de Murcia and Vicomtech, and collaboration Izertis GMV and Seresco.
Regarding thematic areas related to robotics application, the fair has a space dedicated to health sponsored by Fundación Once, with the latest advances in exoskeletons and demonstrations in rehabilitation and assistance, with the presentation of Biomot project, the Japanese researcher Shingo Shimoda, with the collaboration from Spain Juan Camilo Moreno, head of the laboratory of Human Locomotion CSIC Cajal Institute.
Otra de las áreas esta dedicada a la educación, con una innovadora aula en las que los robots y los sistemas conectados ayudan en el aprendizaje; a lo que se suma también un espacio dedicado a la casa inteligente o smart home, con la integración de robots y tecnología IoT en electrodomésticos y otros sistemas, como el de iluminación conectada desarrollado por Philips Lighting.
Another new feature of the event is the celebration called Challenge International Autonomous Robots, an initiative of Ferrovial and Ennomotive in order to push through a competition during the first two days of the event the development of a prototype robot connected to technology IoT for a future autonomous transport, of which the eight best projects will be selected and prototypes will be awarded the last day of the contest.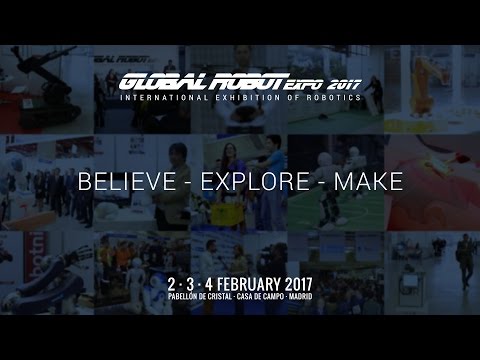 Did you like this article?
Subscribe to our RSS feed and you will not miss anything.
Other articles on AMETIC, Global Robot Expo2017