Produce and distribute content from anywhere is now easier with Blackmagic
ATEM Television Studio mixer HD, the recorder HyperDeck Studio Mini and the new Blackmagic Web Presenter, major developments of the Australian multinational ISE 2017.
Coinciding with ISE 2017, Blackmagic He has performed in Amsterdam are a number of solutions to facilitate the development of innovative new generation of creators of virtual content programs.
These proposals are also designed for the broadcast market, the audiovisual industry and emerging markets that demand flexible and inexpensive to produce all kinds of live events solutions.
The aim of Blackmagic is that these new solutions when used with platforms such as YouTube Live, Facebook Live or Periscope facilitate the development of innovative programs.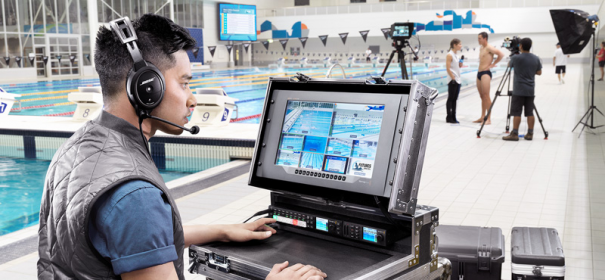 ATEM Television Studio HD
Among the new highlights an interesting version of the popular mixer ATEM Television Studio, designed for live production by broadcasters and professionals in the audiovisual industry.

Incluye cuatro entradas SDI y otras cuatro HDMI, permitiendo conectar hasta ocho fuentes, y admite cualquier formato con una resolución máxima de 1080p60. Por otra parte, ofrece un sinfín de prestaciones de alta gama, como la resincronización de todas las señales entrantes, lo cual brinda la posibilidad de alternar imágenes provenientes de cámaras profesionales o comunes sin ningún tipo de problemas. Asimismo, dispone de una salida para la supervisión simultánea de imágenes, lo que permite visualizar todas las señales al mismo tiempo, así como vúmetros en pantalla y asignación de fuentes.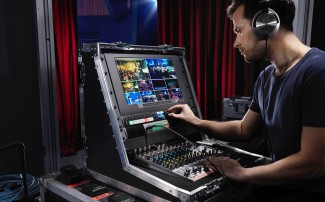 Su panel de control integrado ofrece la posibilidad de alternar fuentes en directo. El innovador diseño se basa en el de los conversores Teranex Mini, de modo que es posible colocar el mezclador tanto en un escritorio como en un bastidor. Además, este nuevo modelo cuenta con sorprendentes funciones como efectos visuales, sistema de intercomunicación, cuatro salidas principales compatibles con la modalidad n–1 para transmitir la señal de retorno a las cámaras, memoria flash para el almacenamiento de archivos, una salida auxiliar independiente y entradas XLR.
On the other hand, this version includes the ATEM Software Control, which allows switching between sources from the virtual front panel or, without using a computer program. The wide variety of menus on the LCD screen also provides access to the same functions provided by the mixer.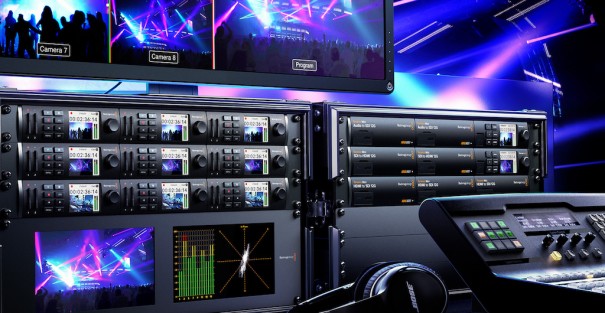 HyperDeck Studio Mini
Blackmagic aims with the new Mini HyperDeck Studio completely redefine the concept of a professional engraver. This compact design occupies only one third of the space required by current HyperDeck models. It is smaller, but has plenty of features to play clips, record master copies of live production, or even create digital art.
Despite its compact size, you can store images ProRes common memory cards and play them with a quality of 10 bits.

Its features include SDI 6G technology, to provide compatibility with any standard at a maximum resolution of 2160p30, an HDMI 2.0 connection to monitor the audiovisual material, two slots for storage media that can record without interruption, and an output signals reference, with integrated sync generator that provides the opportunity to connect several units in series.
Este modelo puede incluso transmitir contenidos en formato ProRes 4:4:4:4 RGBA por salidas separadas para el canal alfa y la señal principal al procesar material en alta definición. No solo dispone de un puerto RS-422 y una fuente de alimentación integrada, sino que además permite usar redes Ethernet para crear soluciones personalizadas, con el objetivo de controlarlo a distancia, suministrarle energía eléctrica o transferir archivos mediante el protocolo FTP.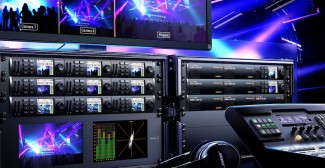 Dado que es posible manejar el HyperDeck Studio Mini mediante cualquier mezclador de la línea ATEM, resulta ideal como fuente de recursos multimedia para el nuevo modelo ATEM Television Studio HD. Pero lo más característico es que ambos dispositivos caben en una unidad de bastidor, lo que permite aprovechar sus prestaciones sin ocupar demasiado espacio.
Thanks to the HDMI UHD, sync generator, the output reference signals, support for Ethernet networks and the ability to transfer files, the HyperDeck Studio Mini is ideal for digital signage projects. We can hide behind a monitor placed on a wall or synchronize multiple units to create posters high resolution. For example, with four burners, we could get an 8K image.
Blackmagic Web Presenter
Grant Petty also announced Monday an interesting solution that allows a computer to detect SDI or HDMI sources as if they were a common webcam to transmit them over the Internet with a much better quality.
Aprovechando la nueva generación de plataformas que incluyen YouTube Live, Facebook Live, Twitch.tv y Periscope, el Blackmagic Web Presenter permite usar programas tales como Open Broadcaster y XSplit Broadcaster para difundir contenidos por Internet desde cualquier lugar. Dado que el dispositivo es detectado como una cámara web, podemos usar cualquier aplicación en equipos Windows, Mac, Linux o Chromebook. Incluso es posible realizar videollamadas por Skype con una calidad de imagen excepcional, para hacer entrevistas con facilidad, aun en lugares donde la conexión a Internet no es buena.

Blackmagic Web Presenter incluye entradas SDI 12G y HDMI compatibles con distintas definiciones a una resolución máxima de 2160p60, y convierte la señal a HD 720p para facilitar su transmisión. Incluso es capaz de disminuir la frecuencia de imagen automáticamente si se detecta que el ancho de banda es reducido. Al transmitir en formato 720p, conservamos una alta definición y una relación de aspecto de 16:9, utilizando la menor velocidad de transferencia posible. Más concretamente, hemos probado transmitir empleando la conexión a Internet de un teléfono móvil, y la calidad es extraordinaria de todos modos.
If an optional smart panel for converters Teranex Mini is installed, there will be several controls and a liquid crystal display that not only lets you view the images, but also check the volume of the audio, the signal format and the frame rate for the USB connection. The HDMI input synchronizes the source, so that you can switch between SDI and HDMI signals directly from the front panel of the device. You can even use the audio input for high-fidelity, to play music, and XLR connection for microphone presenter.
Did you like this article?
Subscribe to our RSS feed and you will not miss anything.
Other articles on Blackmagic, ISE2017