APD works in the museum dedicated to Olusegun Obasanjo work
The Museum of Olusegun Obasanjo in Abeokuta aims to commemorate the legacy of the former president of Nigeria twice. Acciona Productions and Design has been commissioned to carry out the technical development and implementation museum center, which includes interactive modules, original objects and sophisticated audiovisual resources.
Acciona Productions and Design (APD) It has completed the technical development and implementation of museum Museum and Library in Abeokuta Olusegun Obasanjo (Nigeria). The center is dedicated to the life and work of Obasanjo, president of Nigeria twice, and its main purpose is to commemorate the legacy of this policy and present the principles that have guided his life.
The official opening of the museum took place on March 4 and was attended by the presidents of Nigeria Olusegun Obasanjo and Jonathan Goodluck, former Secretary General of the UN and Nobel Peace Prize Kofi Annan, and some of the main leaders the African continent.
The work done by APD have followed Ralph Appelbaum Associates design (RAA) and included production, assembly and installation of all exhibition resources in an area of ​​2,300 square meters.
Museological design combines elements based on traditional African references, with interactive modules, original objects and sophisticated audiovisual resources. The budget for the project is 4.6 million euros.
One of the challenges of the project was the logistics complexity arising from the country's infrastructure. In this sense, APD has made a specific field work to use locally available resources (materials, suppliers, partners, etc.). It has also trained a local team to perform the operation and maintenance of the facility since its opening.
The museum visit begins with the ground floor, where the reception area and general information and Orientation Theater, where a projection of short duration allows visitors to appreciate the figure of Olusegun Obasanjo as the man who marked the history is located Nigeria recently.
The two galleries on the first floor show the political and vital Obasanjo path through a chronological development from childhood and education to his work as head of state and his political legacy.
Entre los elementos más significativos que se muestran destacan una gran escultura suspendida en el atrio del edificio, compuesta por paneles gráficos realizados por artistas locales; los Performance Cones, que presentan diversos aspectos de la trayectoria vital de Obasanjo por medio de proyecciones audiovisuales; un mapa interactivo digital a gran escala; los Photo Booth en el área interactiva de Nigerian Child, donde los niños pueden caracterizarse y fotografiarse con uniformes de trabajo de diferentes profesiones, como doctores, ingenieros o profesores; y la instalación audiovisual African Visionaries, en la que diversas personalidades exponen sus impresiones sobre la figura de Obasanjo.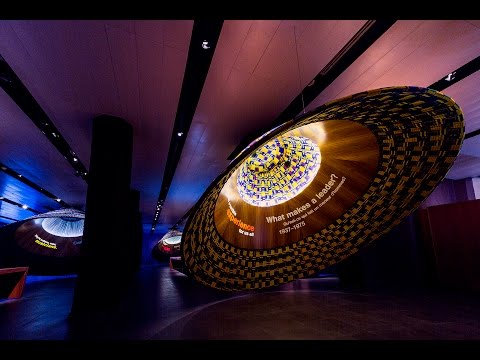 Did you like this article?
Subscribe to our RSS feed and you will not miss anything.
Other articles on Acciona, Acciona productions and design