Nike Unlimited Stadium: a unique track Led to run virtually against oneself
An outer running track on which the main element is a LED display that surrounds; runners equipped with motion sensors and augmented reality technology structure this new facility in the form of running shoe that Nike has opened in the capital of the Philippines.
Nike, Name brand shoes and sportswear, is technologically innovating both its stores and facilities that bear his name. If you recently used in its new central Paris store augmented reality to show and prove their sneakers (more data Digital AV) Has now opened in Manila (Philippines) A ​​track with the shape of your running shoes LunarEpic.
The uniqueness of this outer race of 200 meters, called Nike Unlimited Stadium, and where they can participate up to thirty runners is surrounding an LED display that allows the 'runners' to project their avatar and compete virtually against themselves.
To do so sensors should be placed in their shoes, and after setting a lap time of initial data to the screen are sent by radio frequency identification technology (RFID). In his next lap it is displayed his avatar running on his previous time, that the runner can overcome competing against himself and beating his record at every turn.
As the registration and the number of turns is improved avatars become larger on the LED display, which is more an incentive for real runners improve their pace and performance.
Nike Unlimited Stadium will be open in the Philippines until August 21, and the company does not rule out this project to other countries temporarily.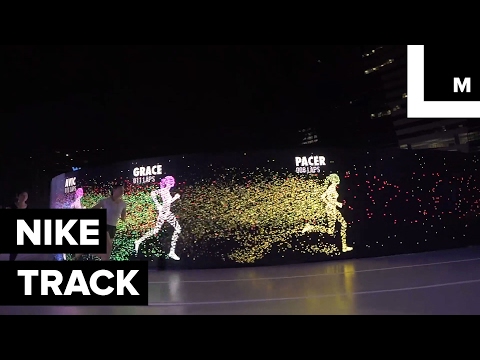 Did you like this article?
Subscribe to our RSS feed and you will not miss anything.
Other articles on Nike, Nike Unlimited Stadium