Roland Pro A / V presents the switch matrix and multi-1HD XS multiscreen
This versatile and compact solution with support Full HD, is ideal for corporate productions, religious organizations and equipment rental, with application in banquet halls, halls, theaters or e-learning studies that use multiple destinations to display video.
Roland Professional A/V will leverage its assistance to InfoComm 2017, held from 14 to 16 June in Orlando, to present the switch multiformat matrix XS-1HD, which combines the power of the XS AV Matrix series with the size and characteristics of the video switches V-1.
El XS-1HD proporciona salida multipantalla para monitor de seguimiento (confidence monitor), pantalla principal, pantallas laterales y salas extra. Incluye cuatro entradas HDMI con escaladores y salidas escaladas con unas dimensiones de 33×11,4×3,5 cm, y ofrece un completo conjunto de herramientas profesionales para producción en vivo, como Key y efectos Picture-in-Picture con resolución Full HD.
Gracias a su compatibilidad con diferentes señales de vídeo de fuentes como cámaras, ordenadores y reproductores multimedia, el XS-1HD es idóneo para producciones de empresa, organizaciones religiosas y alquiler de equipos. Está pensado para salones de banquetes, pabellones, teatros o estudios de e-learning que usen múltiples destinos para mostrar vídeo, escalado con precisión a nivel de píxel para muros Led y proyectores.
Este conmutador de Roland simplifica la producción y optimiza los procesos, lo que permite implementar sistemas complejos que de otro modo requerirían paneles táctiles, conmutadores de vídeo, mezcladores de audio y paneles de control. El equipo posibilita activar configuraciones de eventos desde memorias de escena, y la memoria USB almacena tanto los ajustes de conmutación como las imágenes fijas.
Todas las entradas llevan escalado y sincronización de fotogramas. El procesamiento 4:4:4/10 bits de alta calidad admite una resolución máxima de WUXGA/1080p. Además de conmutación de matriz, un modo Split permite componer hasta tres ventanas insertadas en el vídeo de fondo para aplicaciones de Picture-in-Picture (PinP), mientras que el modo Switcher consigue la transición entre vídeos, o PinP y composición de Key, con previsualización multivista para operación en tiempo real.
The equipment includes two input channels and audio output line level by RCA jacks. The audio can be mixed internally with HDMI sound by the integrated mixer. You can embed audio and descaling, controlled delay for adjusting lip-sync.
For installed and live production applications, the XS-1HD supports video signals HDCP Blu-ray equipment or smartphone, RS-232 PC controls or touch panels, or EDID for automatic setting of output resolutions on smart displays. Generating test patterns simplifies configuration screens and monitors.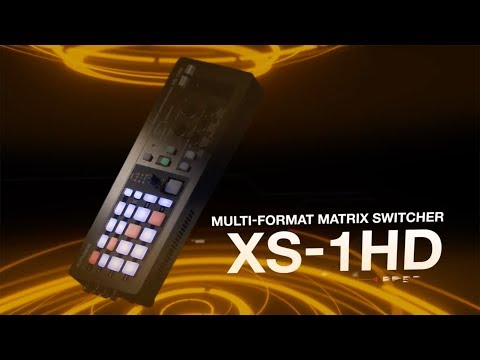 Did you like this article?
Subscribe to our RSS feed and you will not miss anything.
Other articles on Roland, Roland Systems Group