Harman Professional AV Solutions enhances collaboration with its new range of solutions
The manufacturer has presented during the recent celebration of InfoComm 2017 in Orlando a wide range of solutions for any corporate meeting space more productive, participative and effective.
Among the novelties presented by Harman Professional at the fair in AV technology and integration InfoComm 2017Which closed a successful edition a few days ago in Orlando (Florida - USA), is the expansion of the N1000 series of Networked AV encoder with the new N1134A, with native support SDI, and encoder wall plate N2315 of the N2300 series also this line.
Similarly, the line of Networked AV 4K AMX now it includes a product input range for walls, lecterns and floor boxes with the N2315 encoder, which provides more capabilities coding encoder autonomous N2312 on a wall plate design.
Regarding collaboration systems, AMX has introduced Acendo Core, a complete solution for spaces small meeting offers direct integration with management halls Microsoft Exchange, integration with one-touch Skype for Business, viewers native documents and sending email documents, among other features.
To this we also add Premium Sound bars Acendo Vibe conference, where the manufacturer combines with modern design and stylish JBL speakers, microphones and far-field wide-angle camera.
As for touch panels autonomous reserve room in InfoComm 2017 visitors have at their disposal the Book Acendo systems that integrate directly with backup software popular market spaces. Through the new firmware, all AMX panels reserves RoomBook immediately become part of the new family of collaboration products Acendo.
Other highlights has been the N2400 series, the first video over IP solution AMX offers full quality 4K content via Gigabit Ethernet networks, with an almost imperceptible latency. With support for 4K video at 60Hz and chroma 4: 4: 4 makes it easier for businesses and learning environments HD video.
Also with Networked AV technology, the AMX switch presentations N7142 provides video distribution low latency scalable and flexible, allowing educators to improve their lectures and presentations reach more students in large classrooms.
The company, whose products are distributed in the Spanish market Avit VisionIt has also shown the possibilities of the new audio cards Enova DGX, including the integration of Dante to deliver networked audio from and selectors Enova DGX 100 Series, with up to sixteen channels of audio networking with a flexible switching between traditional AV solutions and Dante.
La última versión de la herramienta de configuración basada en la nube Rapid Project Maker 3.0 del fabricante ofrece, entre otras mejoras, una interfaz HTML 5 rediseñada, programación simplificada y una interfaz para el usuario de panel táctil mejorada y más intuitiva. A ello se suma la nueva solución para presentaciones audiovisuales Incite, que combina tecnologías de BSS, dbx y Crown y que este diario analizará más en detalle.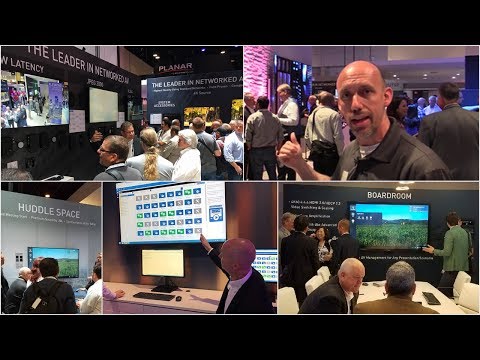 Did you like this article?
Subscribe to our RSS feed and you will not miss anything.
Other articles on AMX, AVIT Vision, Harman Group, Harman, InfoComm2017