Última tecnología de proyección 3D de NEC en ISE 2010
NEC Display Solutions presenta este año en Integrated Systems Europe (ISE) importantes novedades como la última tecnología de proyección en 3D combinada con la solución única de apilado de proyectores de 20.000 lúmenes ANSI.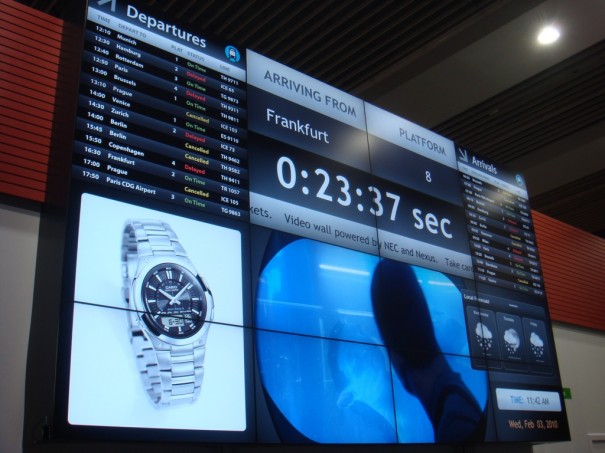 NEC Display Solutions ha presentado en ISE el NP3250. La principal novedad es que se pueden combinar hasta cuatro de estas unidades para formar una proyección global con un impresionante brillo y calidad. NECestá utilizando también estos modelos apilados para presentar una solución 3D. Gracias a una instalación automática muy rápida esta solución ofrece una imagen tridimensional fantástica para proyecciones estereoscópicas. Otro punto fuerte es el lanzamiento del P701. Este impresionante public display de 70 pulgadas de alta gama representa el modelo de alta gama de la nueva Serie P. Los visitantes podrán echar un primer vistazo a las futuras soluciones de visualización que utilizan sensores para una medición de la audiencia en tiempo real y adaptan el contenido según la persona que se encuentra enfrente o descubrir la pantalla BarType de NEC para aplicaciones de señalización en áreas con espacio limitado. Con el P701 y su control del brillo inteligente, NEC ofrece una solución pensada especialmente para señalización digital, salas de conferencia o de control. Además, la empresa ha desvelado monitores para señalización digital de entrada de gama que incluyen desde la serie V hasta los Multeos M401 y M461, recientemente rediseñados. Ambas series vienen con el control de red (LAN) de cara al futuro en vez del RS232 lo que significa más flexibilidad y intuitividad.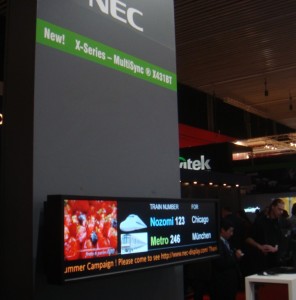 Es de reseñar que el stand de NEC está presidido por un video wall de 4 x 4 pantallas MultiSync X461UN así como el proyecto de investigación Pervasive Display Networks (PDN). Esta solución emplea sensores para adaptar el contenido a la situación alrededor de las pantallas en red en tiempo real. Por ejemplo, la pantalla cambia el contenido publicitario automáticamente cuando diferentes personas y grupos objetivos pasan a su lado y muestra contenidos personalizados. El NEC X431BT es un producto de señalización digital realmente único y especial. La llamada pantalla BarType está diseñada para lugares donde el espacio está limitado y donde hasta la fecha no se podía poner señalización digital, por ejemplo, en estanterías, escaparates o pilares. Otro punto fuerte de NEC es la presentación de sus futuras soluciones de visualización LED. Con ellas, NEC satisface las necesidades del cliente en cuanto a aplicación mixta de LCD y LED y completa su gama de soluciones de señalización digital profesional y retail.
Did you like this article?
Subscribe to our RSS feed and you will not miss anything.
Other articles

ISE2010

, NEC