New wide-format of Samsung LED monitors
Las nuevas series HE, ME, UE y UD de Samsung combinan las ventajas de la tecnología LED, con un impacto positivo sobre el medio ambiente.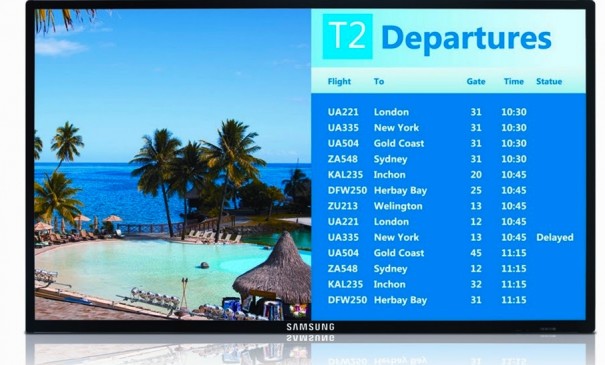 Samsung cuenta ahora con una nueva línea de monitores LED, que conforman las series HE, ME, UE y UD y que constituyen una solución profesional y a la vez atractiva, para la visualización de contenidos con un consumo muy bajo. Samsung LED con tecnología de retroiluminación LED ofrece muchas ventajas sobre la tradicional iluminación de fondo CCFL. Desde Samsung, sostienen que un monitor con tecnología LED permite ofrecer imágenes más nítidas, claras, coloridas y con un consumo de energía notablemente menor. La Serie HE (HE40A, HE46A) está diseñada para aplicaciones de uso moderado en áreas como recepciones corporativas o locaciones de empresas pequeñas como oficinas médicas y dentales. Ambos modelos cuentan con un sintonizador de TV en un formato fácil de instalar, diseño atractivo y una pantalla de alta resolución. Son altamente confiables y tienen una garantía de dos años. La Serie ME (ME40A, ME46A y ME55A) está diseñada para el mercado de señalización digital, centrándose en los clientes empresariales que buscan reducir su gasto de energía y el costo total de propiedad, así como disminuir la relación tiempo/costo de las instalaciones. Ofrece una pantalla de alta resolución y un sintonizador de TV integrado, con un control de contenidos de fácil manejo a través de los puertos RS232C y RJ45. DisplayPort facilita la conectividad, y la serie cuenta con un chasis ultra-delgado y un diseño de bisel delgado. La Serie UE (UE46A y UE55A) ha sido creada para quienes buscan una solución de video-wall asequible y que al mismo tiempo aproveche las ventajas de la tecnología LED. La pantalla ofrece una resolución de 1920 x 1080, y posee un panel de actualización ultra-rápido de 240Hz. Los monitores de la Serie UE también tienen capacidad 3D, con opción de gafas 3D. La Serie UD (UD55A) está diseñado para quienes utilizan video-walls y buscan una solución para un mayor LCD de bisel delgado para minimizar la brecha de bisel. Un ancho del armazón de sólo 5,5 mm de bisel a bisel hace que el video prácticamente no presente fisura alguna. La Serie es de 55 pulgadas, con pantallas de 1920 X 1080 y niveles de brillo de hasta 700 nits.
Did you like this article?
Subscribe to our RSS feed and you will not miss anything.
Other articles Samsung