Cité des Sciences et de l'Industrie in Paris chooses the PSE Sony 4K technology for planetary
Due to the configuration and combination of 4 K projectors of this manufacturer, it has become the first planetarium in offer and reproduce an image in resolution 8K in Europe and the second in the world.
Responsible for the city of Sciences and industry of Paris)Science and Industry museum) they have resorted to Sony PSE to equip its planetarium technology 4K of the manufacturer, in order to seize even more immersive experience to ensure that your images reach the highest levels of realism, accuracy and intensity.
During more than 30 years, this area of science and innovation has allowed visitors experience an "intense realism", thanks to its planetarium which offer surround videos and performances in 360 °.
In order to offer to its 200,000 annual visitors an even more enriching experience, the Cité des Sciences et de l'Industrie decided to change their projectors for a next-generation Imaging System. At the beginning of 2017, its makers took a decision and opted for solutions 4 K de Sony PSE to offer higher resolution images, better contrast and optimum brightness.
As explained by Fodil Yazid, responsible technician in charge of this project, "in order to offer our visitors experiences even better, must periodically review our technological approach. Through the acquisition of compatible with 8K transmission equipment, the Planetarium and the Cité des Sciences et de l'Industrie has become the first of its kind throughout Europe in both raise the bar. In addition to choose Sony for technology, also we should surround ourselves with powerful partners to achieve our goal"says.
"In particular, as Yazid points, have been associated with"RSA Cosmos, specialist in planetariums, and with VidélioInstaller video systems with a vast knowledge of specific problems of industry events".
Ten projectors to touch the stars
In addition to the need for the Planetarium to constantly modernize its facilities, the expectations were very high to increase the uniformity of colors and light. To do this, Sony raised a solution composed of ten projectors with 4K model VPL-GTZ280 resolution, that combined are able to reproduce a single image at 8K resolution, to achieve high levels of resolution, image quality and brightness consistent.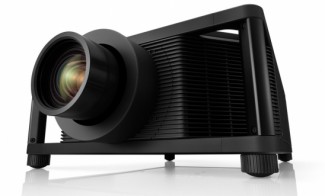 With the help of 20 computers, these projectors are capable of projecting an image made up of 35,000,000 pixels, a resolution with a level of detail seventeen times that displays HD found in most TVs today at day.
To carry out this project, Sony collaborated with the creator of planetary RSA Cosmos, who has already installed more than 150 structures of this type throughout the world, and with Videlio, supplier of video and partner solutions long time manufacturer , especially in cultural and sports events.
Philippe Remion, responsible for sales at Sony PSE, emphasizes in this regard that "we are especially proud to work in a place so emblematic as the Planetarium of the Cité des Sciences et de l'industrie, with the most powerful solution available currently in the" market to bring the realism of the images as far as possible and increase the excitement of the experience of visitors".
Did you like this article?
Subscribe to our RSS feed and you will not miss anything.
Other articles Ship, Cité des Sciences Paris, RSA Cosmos, Sony, Videlio-HSE, Videlio-IEC