Charmex provides innovation AV to Leukaemia Research Institute j. racing
The project of technological equipment, awarded to the company, Semic, had the work of engineering and AVLab construction management.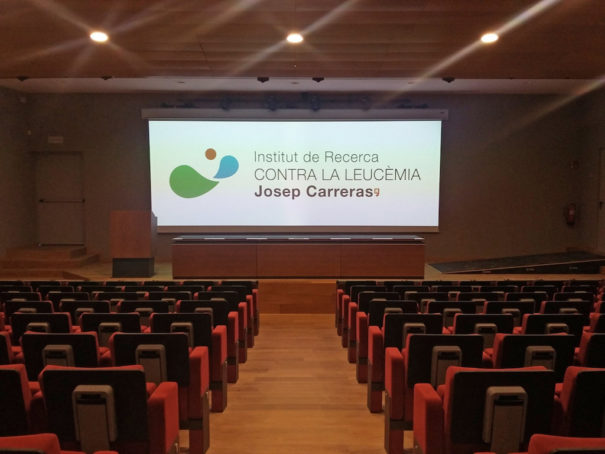 The new building of the research against the Josep Carreras leukemia)IJC), located in the Barcelona town of Badalona, told with Charmex, B2B supplier of the audiovisual sector, to supply AV equipment in the Auditorium, which has phosphorus laser projectors of Christie and his servants Pandoras Box, solutions of control Crestronparent Gefen and sound systems of L-Acoustics, DPA Microphones, Yamaha Y Shure.
This Institute, with more than 10,000 square meters of space and capacity to accommodate about 350 researchers, was created in 2010 to boost biomedical research and personalized medicine in the field of leukemia. SEMIC He has been awarded the project, as AVLab He has done engineering and project management, with Charmex as supplier of audiovisual equipment.
The audience of this new Center, with capacity for almost two hundred people, is a versatile space that is used for events, presentations, concerts, etc., which has a large screen, made to measure, 80, 6 × 4, 25 meters, where is projected in blending with two units of phosphorus laser Christie DWU599-GS.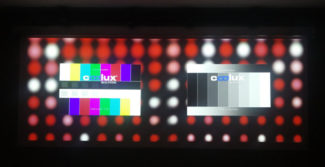 These technology 1DLP projectors, offer 6.065 lumens ISO and resolution WUXGA (1.920 × 1.200 p), with 20,000 hours of operation free of maintenance and BoldColor of Christie technology for superior color performance.
Explains Marc Marquès Borrell, technical director of AVLab, "these match laser projectors were chosen because they have greater performance and less maintenance lamp teams. They are machines that have lower consumption and waiting time, and operate at a lower temperature, with higher resolution and brightness".
To manage the projections, Charmex has supplied the means Christie Pandoras Box Dual Player server, and the Pandoras Box Manager system for synchronization and remote control, "provides high performance in design, management and processing of" contents of video", says Marquès Borrell.
This equipment is added also a projector also from this same - model LWU502 - manufacturer with 3LCD technology, power 5,000 lumens and WUXGA resolution, as mobile equipment to give support when the auditorium is to the best of their ability.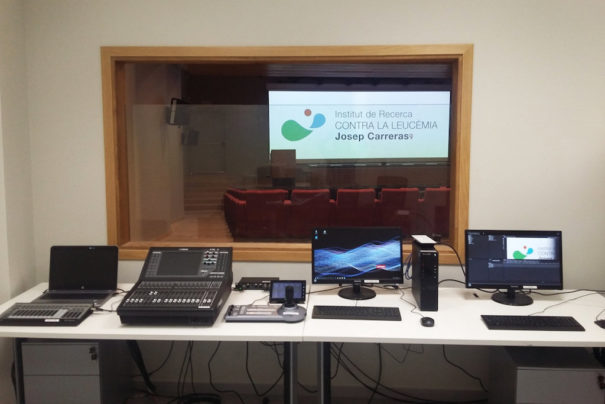 Sound and control systems
The charge of this Centre have especially since interest in having a high quality for its auditorium sound system, which has been chosen to install speakers and amplifiers of L-Acoustics; microphone headset, piano and voice for the DPA manufacturer concert; a table of sound and rack Yamaha RI8 Dante, as well as desktop microphones and wireless receivers and antennas of Shure, along with spotlights and a controller of Martin lights.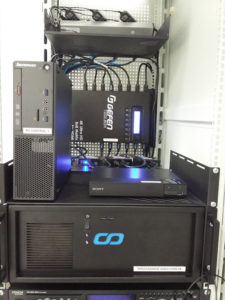 Central control is performed with the Crestron CP3 system, which allows the management of all connected systems (AV, lighting, IT, energy, etc.). The auditorium has been equipped with lighting control, audio and matrix touchpanel from the same manufacturer, in addition to an array of video and HDMI Ultra HD - in this case of Gefen-Extenders, for routing up to eight Ultra HD sources.
Manel Martínez, Charmex project consultant, against the Josep Carreras Leukemia Research Institute Auditorium is at the forefront of the audiovisual technology. "The room is equipped with the most advanced technology in projection, control, and video processing, and with impeccable acoustics. We are proud to have participated in this project, which has been integrated with mastery by the AVLab team, with our help and support".
Did you like this article?
Subscribe to our RSS feed and you will not miss anything.
Other articles AVLab, Charmex, Christie, Crestron, DPA, Gefen, Institute research against leukemia Josep Carreras-IJC, Martin, Martin Professional, SEMIC, Shure, Yamaha