Roland incorporates new features of control for PTZ cameras in XS-62S video switcher
La nueva configuración de control del conmutador de vídeo XS-62S facilita la gestión de la cámara PTZ, mediante el protocolo Visca, a través de RS-232.

Con objeto de mejorar la administración de las cámaras PTZ, Roland ha desarrollado el nuevo Software de control remoto versión 1.00 (Windows/Mac) para el conmutador de vídeo Roland XS-62S, así como la nueva actualización de firmware versión 1.2 que añade nuevas funcionalidades.
La nueva configuración de proporciona control de la cámara PTZ mediante el protocolo VISCA a través de RS-232, permitiendo que las cámaras compatibles sean gestionadas remotamente por el software de control remoto XS-62S sin un controlador dedicado del fabricante.
Las funciones de control de la cámara PTZ incluyen panorámica, zoom, inclinación, enfoque y brillo. Ahora es posible administrar hasta siete cámaras PTZ desde el software y cada cámara de la red puede almacenar y recuperar ocho posiciones de memoria y posición. Respondiendo a la demanda de los usuarios, Roland hace posible ahora configurar la velocidad del movimiento de las cámaras (rápida/lenta).
Otra de las novedades de la actualización es la posibilidad de control en las cámaras contally inalámbrico a través de LAN. Además, el panel muestra ahora el número de preajuste de la memoria actual cuando está seleccionado.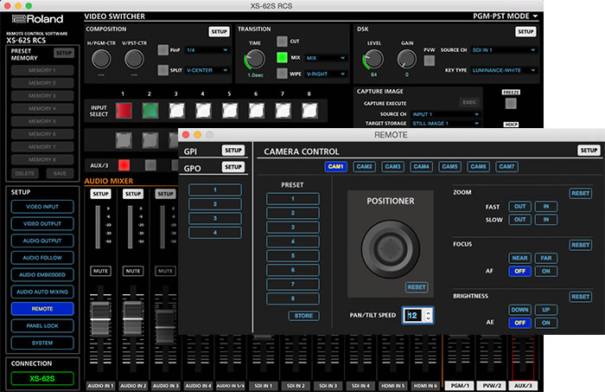 A solution all-in-one
El XS-62S cabe en 1U de Rack, es un compacto conmutador con capacidad de 6-canales de video, mezcladora de audio y control de cámara PTZ tanto para instalaciones permanentes como para eventos in-situ.
Esta potente solución integrada es compatible con un amplio rango de aplicaciones desde broadcast a eventos, formación, corporativo… Sus memorias programables permiten la invocación inmediata de cualquier parámetros prestablecidos deposiciones y ángulos de las cámaras, mientras que el mezclador automático de audio se ocupará de la mezcla de audio en segundo plano para que el operador se enfoque en aspectos creativos.
El XS-62S facilita el control de cámaras PTZ desde los botones y pantalla de menú en su panel frontal, o desde un Mac o PC utilizando el programa de control remoto (RCS) en tiempo real.
Did you like this article?
Subscribe to our RSS feed and you will not miss anything.
Other articles Roland, Roland Systems Group