Sequoia Nexus teaches a workshop on virtual reality applied to brands in the Sun
Los participantes conocerán en detalle el proceso de creación de un proyecto de contenidos para marcas con realidad virtual.

Esta división de Grupo Secuoya, que aúna las áreas de corporate y digital de la compañía, participa en la edición 2018 del Festival Iberoamericano de comunicación publicitaria – El Sol, que se celebra desde hoy y hasta el próximo 2 de junio en Bilbao, en calidad de socia de la Branded Content Marketing Association (BCMA España).
Con el título 'Vive el proceso creativo de una experiencia VR', Secuoya Nexus impartirá esta tarde (a las 19:00h) un taller práctico, de una hora de duración, en el que ofrecerá a los participantes la oportunidad de vivir en primera persona el proceso de creación de un proyecto de contenidos para marcas en esta tecnología (planteamiento, idea, concept, historiae implementación), demostrando cómo la realidad virtual puede ser un aliado perfecto en el negocio.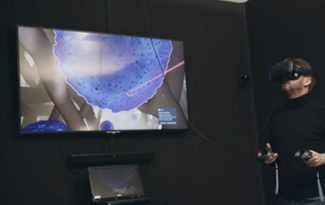 Impartirán el taller Eduardo Basarte (director Secuoya Nexus); David Berdónes (director de realidad extendida en esta división); Carlos Narbaiza (responsable de desarrollo y arte de realidad extendida de Grupo Secuoya), y Jaime Martínez (Programador).
Este taller sobre realidad virtual de Secuoya Nexus se enmarca dentro de las actividades y eventos del festival, que este año celebra su 33ª edición, ya que es un referente en España en el desarrollo y aplicación de soluciones de realidad Extendida (XR) en todo su abanico de posibilidades (realidad virtual, aumentada y mixta) para marcas y empresas, a las que ayuda a incorporar este tipo de tecnologías a su agenda de transformación digital y conseguir así nuevos modelos de aproximación de sus ofertas.
Did you like this article?
Subscribe to our RSS feed and you will not miss anything.
Other articles

BCMA España

,

Festival Publicitario El Sol2018

, Sequoia group, Sequoia,

Secuoya Nexus