A Christmas mapping full of light and sound the façade of the Modernist Enclosure of Sant Pau
Con motivo de estas fechas navideñas

,

se está exhibiendo un espectáculo de luz y sonido que rinde homenaje a la obra del arquitecto Lluís Domènec

.

Para su realización

,

Sono ha suministrado dos proyectores Barco HXD W20 Flex y el software Watchout

.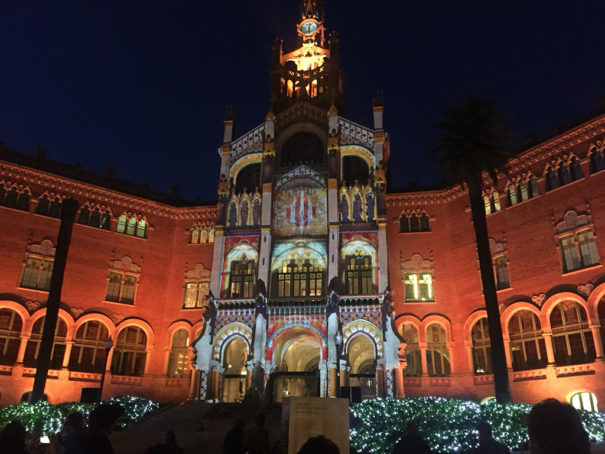 La fachada del Recinto Modernista de Sant Pau en Barcelona renace en estas Navidades con un espectáculo de luz y sonido que evoca el solsticio de invierno y rinde homenaje a la obra del arquitecto Lluís Domènec i Montaner, impulsor de este espacio emblemático de valor patrimonial y artístico de la ciudad.
Bajo el título 'La llum de Sant Pau' (La Luz de Sant Pau), este emblemático espacio modernista de Barcelona ha querido representar la llegada del solsticio de invierno con un espectacular mapping, celebrando así la imposición del sol sobre la oscuridad y el esplendor de la naturaleza que pronto comenzará su ciclo revitalizador de nuevo.
The company Sono se ha encargado de proporcionar los equipos de proyección, sonido e iluminación para dar vida a esta representación artística. Para la realización de este espectáculo audiovisual se han instalado dos proyectores DLP ship HXD W20 Flex de 20.000 lúmenes y para la gestión de contenidos se está utilizando el software Dataton Watchout.
In addition, se usan dos mezcladores digitales de 16 canales y tres cajas acústicas. Para la iluminación se han aportado 15 Par Led Lumipar con emisor/receptor gestionado por WiFi.
You liked this article?
Subscribe to our RSS feed And you won't miss anything.
Other articles on ship, Dataton, Sono