The history of the Aboriginal people of Melbourne is recreated with unique NanoLumens Led panels
La solución visual Led Nixel Plate, formada por diferentes paneles de la serie Nixel Led de NanoLumens bajo el diseño de CTS, se ha convertido en un impactante reclamo para que residentes y visitantes conozcan cómo se creó esta urbe australiana.
El Ayuntamiento de Melbourne (MCC) se ubica en un histórico edificio que desde 1867 se mantiene en el centro de la misma y se utiliza para presentaciones culturales, conciertos, obras de teatro, exposiciones y turismo.
Cuando sus responsables contactaron con Citadel Technology Solutions (CTS), especializada en la gestión de tecnología de datos, vídeo y voz, con el fin de diseñar una pantalla para promocionar y celebrar la historia aborigen de la ciudad, el arquitecto de esta empresa, Paul Materazzo, y el resto del equipo definieron la pantalla Led Blades.
Tras realizar el diseño, solicitaron la ayuda de la consultora de medios especializada en soluciones Led de alta resolución Digital Place Solutions (DPS), así como del fabricante de pantallas con esta tecnología NanoLumens, para lograr la solución Led Nixel Plate y "recrear un edificio del siglo XIX para una audiencia de visitantes del siglo XXI".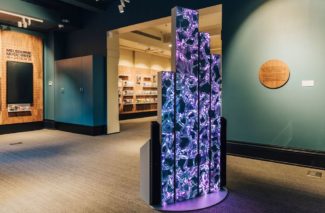 Como explica Paul Materazzo, "el MCC tenía una idea específica para tratar de atraer a la gente desde la calle y que entrara en el centro de visitantes que alberga en su interior, y querían una exhibición que captara su atención con una presentación visualmente impresionante de la historia aborigen de la región".
En concreto, según este responsable "buscaban una solución inusual e impresionante con su primera instalación de pantalla Led, y conociendo la flexibilidad que ofrece NanoLumens Nixel Series, diseñamos Led Blades: una pantalla de cuatro puestos que es la primera de su tipo en Australia", continua el arquitecto de CTS.
Además de causar el mayor impacto, los responsables de MCC querían una solución visual que les permitiera mostrar palabras o imágenes individuales en cada mensaje, "así que se me ocurrió el diseño de los cuatro mensajes y los diseñé en varias alturas -puntualiza Materazzo- para que cada uno de ellos pudiera tener un medio de comunicación individual o una visualización completa de los cuatro mensajes".
La pantalla diseñada para este proyecto consiste en cuatro paneles de longitud desigual, el más alto de 2,2 metros, con un ancho total de 1,1 metros. Las pantallas Led de la serie Nixel unieron perfectamente este concepto, ya que se diseñaron con las estrictas especificaciones de CTS.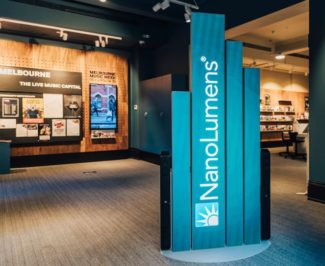 Gerry Thorley, director de DPS, subraya la labor conjunta con las empresas implicadas para que este proyecto fuera un éxito: "gracias a la experiencia de DPS y al soporte de NanoLumens pudimos utilizar las dos zonas horarias internacionales para elaborar el diseño, los dibujos y el presupuesto muy rápidamente. DPS, NanoLumens y Citadel realmente se unieron como un único equipo para entregar una solución impresionante de pantalla Led a tiempo y dentro del presupuesto, que atrae la atención de los visitantes".
El contenido específico incluye una introducción a la historia de la comunidad aborigen de Melbourne, junto con sutiles imágenes que representan su transición a la actual ciudad. Una voz en off explica cómo los aborígenes ven la tierra hoy en día y cómo sigue conectando con su historia. A continuación, dirige a los visitantes a las numerosas galerías y museos de la zona que muestran la cultura aborigen.
Como añade Paul Materazzo, "contar con la garantía de seis años de NanoLumens proporcionó mucha tranquilidad, junto con apoyo práctico que nos dieron desde el principio. Trabajaron con nosotros en cada etapa y también se involucraron personalmente para ayudarnos a tener éxito y alcanzar nuestro objetivo de entregar a tiempo la solució, con una excelente calidad de construcción".
Did you like this article?
Subscribe to our RSS feed and you will not miss anything.
Other articles

Ayuntamiento de Melbourne-MCC

,

Citadel Technology Solutions-CTS

, Digital Place Solutions, NanoLumens