Projection laser and surround sound to recreate a historic ship in the Frammuseet Museum in Oslo
The technology of Digital Projection, 7thSense multimedia servers and Ohm audio systems, integrated by Sarner under advice from BlueBox Technology Solutions, have shaped this immersive project.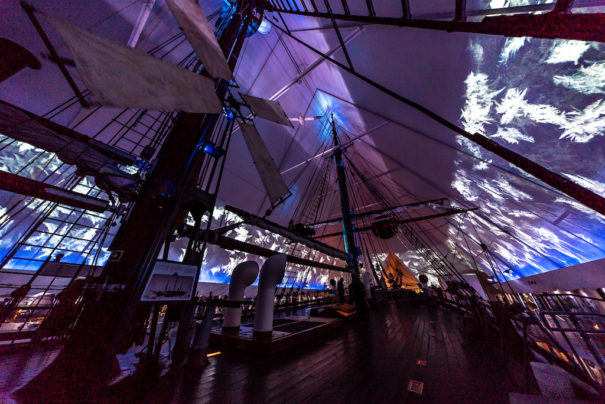 Docked in the Frammuseet Museum (or Fram Museum) in Oslo, the emblematic Norwegian ship Fram It has in its history stunning travel by the icy regions of the Arctic and the Antarctic between 1893 and 1912, and have led to the first person who reached the South Pole in 1911. This historical boat took a well-deserved rest in 1936 and since then it has evolved to become an acclaimed tourist attraction of the city, with more than 200,000 visits a year.
To follow in this line, Museum officials decided to upgrade and modernize its proposal and offer visitors a surround experience, which hired Sarner InternationalBritish audiovisual Integrator and specialist in amusement, for the project.
The goal happened because visitors feel part of an Arctic Adventure, by what the projection and surround sound had to take the center stage in this remodeling, which has cost € 1.4 million, and face a major challenge: introduction of audiovisual elements, lighting and technology multimedia without damaging the authenticity and integrity of the ship, which is an attraction in itself.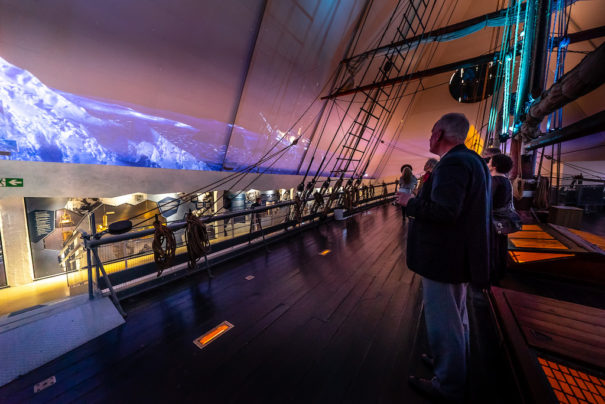 From Sarner International hired Mike Ross, director and founder of BlueBox Technology Solutions, as audiovisual consultant to design the project from beginning to end. With more than fifteen years of experience in installation projects of a similar nature all over the world, Ross surrounded himself at the same time from a number of trusted suppliers.
In particular, this project has counted with 7thSense Design, a company of software and hardware for multimedia servers winners of several awards; Ohm, custom speaker maker, and Digital Projectiona leader in professional projectors laser Led.
"The own boat sits on a building unique, triangular with staggered paths that allow you to see three sides - explains Mike Ross-. We decided to use the Interior of the building, as a canvas, walls to project images of the Arctic conditions, returning life to the own ship with atmospheric, Visual and sound elements. But, without a doubt, the jewel in the Crown of the reform of the Museum is the projection system multichannel surrounding the boat."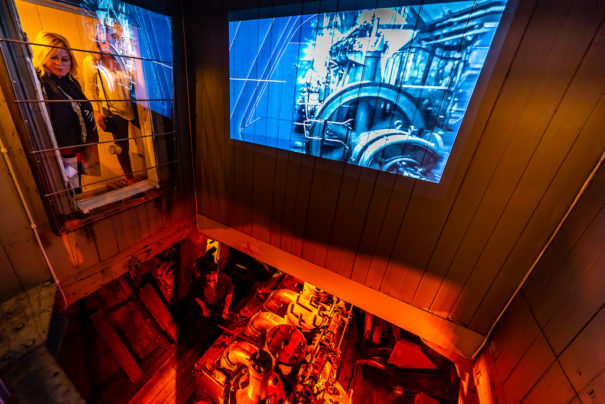 Ten spotlights E-Vision Laser 10K Digital Projection, that have been adapted to create a glacial background so that visitors feel completely surrounded to embark on the ship are used to to make this immersive concept a reality.
BlueBox Technology Specialist each of these teams strategically placed to project with the perfect angle, at the time that surrounded the obstacles on board. The range E-Vision Laser 10K, composed of a single-chip DLP projectors, offers a capacity of 10,500 lumens and is capable of generating more than 20,000 hours of constant lighting, without needing practically maintenance.
These features make this Digital Projection equipment is particularly suitable for use in professional environments and attractions to visitors depending on the ambient light, as is the case with the Frammuseet Museum, to display the contents to the public with saturated colors, bright images and details in dark areas, which adds its minimal maintenance thanks to its solid lighting system (without lamps).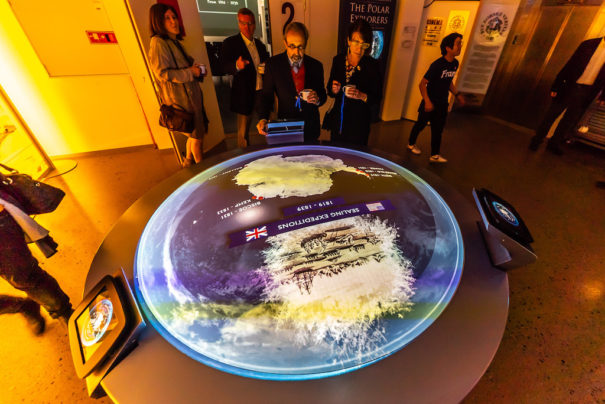 In the ship engine room Fram7thSense Design multimedia servers have been installed. A single system 7thSense Infinity Delta, the most powerful of the range, is sufficient for the playback of content on the wall, offering high performance and reliability to generate a sequence of fifteen minutes of content to 270 degrees.
In it, visitors 'travel' in the famous ship Arctic, which culminates in a violent storm and the boat aground eventually freeze between the ice blocks. To achieve this effect, BlueBox programmed manually blending and geometry in a media server uncompressed, capable of playing up to 16K 60 fps video content.
Room machines of the ship Fram now also houses a projector Laser 6500 E-Vision of Digital Projection, which is used to show visitors how images functioned engine. "The Museum intended to run the engine again, but was not possible in this enclave, although Yes we managed to come to life thanks to the projection and lighting," explains Ross.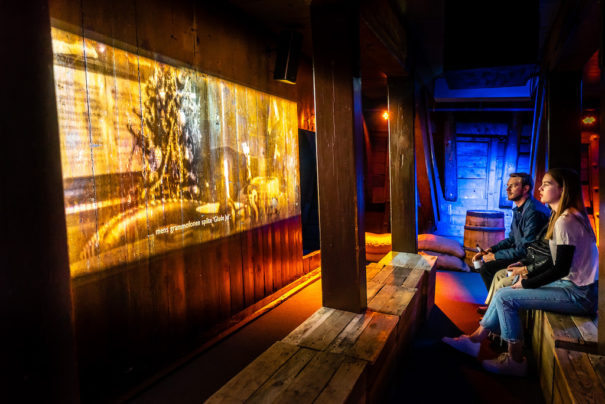 With similar specifications of high-end E-Vision model 10K Laser, Compact Laser 6500 Digital Projection projector can be mounted in virtually any angle to overcome the limitations of space, as it happens in this room.
In addition, in this environment, lighting, odors and movement are an addition to the sensory experience of the visitors, complete with four speakers BRT-6 of Ohmcoupled with a TRS-218 subwoofer from the same manufacturer to generate motor noise real, which rumbles background to enhance the feeling of the visitor to be aboard the ship.
From the point of view of sound, Gareth Coleman, director of sales at Ohm, says: "we have worked with Mike Ross in several projects as supplier of audio, has been great to see a project so fascinating. "We collaborate in the design of a sound system playing with our subwoofers, with the aim of achieving the bass frequencies and deep vibrations that would generate an engine of this type".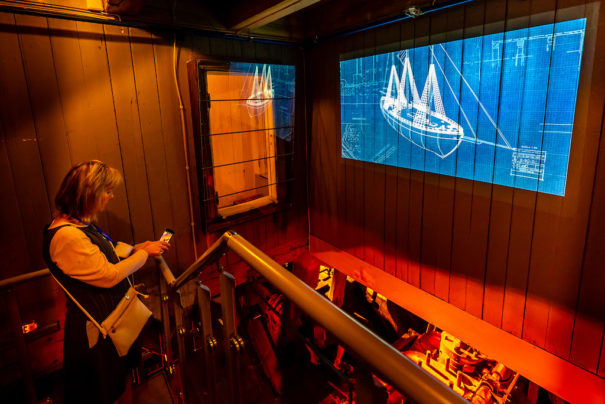 Para introducir el sonido del motor del navío, esta compañía ha tenido que superar algunos desafíos, "ya que tuvimos que acomodar grandes volúmenes de sonido en un espacio muy pequeño -recuerda Coleman-. El subwoofer TRS-218 se integró totalmente en el casco del navío, centímetro a centímetro, cerca del compartimento del motor".
In the area of presentation of the attraction, a Nano 7thSense Delta Media server feeds other two E-Vision Laser-6500 Digital Projection projectors, flanked by two compact loudspeakers BRT-6 Ohm (hidden in the space and offer a direct sound) to the public area), configuring an ideal solution to show old film footage.
The Server integrates a technology that allows you to display configurations that require a bandwidth lower, with up to four outputs, whose result is an affordable way to introduce a multimedia playback uncompressed in the workflow of the museums, so that visitors can experience digital media of high quality in every area of the attraction or display.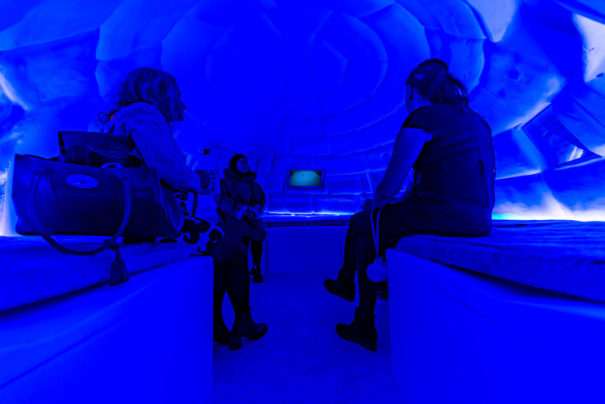 The surround experience continues in the hold of the ship, located in the bow, which has been recently opened to the public for the first time and now houses four Ohm BRT-6 speakers and a subwoofer BRS-12 to simulate the boat against the ice Crackle.
Además, durante una de las ampliaciones del museo realizada hace unos años, se incorporó el Gjøa, el primer barco que navegó por todo el Paso del Noroeste, que los visitantes pueden conocer gracias a una mesa de proyección interactiva para lo que se utiliza otro equipo E-Vision Laser 6500 de Digital Projection.
Para el director técnico de diseño de 7thSense, "ha sido un proyecto bellamente ejecutado por todas las partes implicadas, y en particular por Sarner y BlueBox Technology Solutions, que han seleccionado de manera experta las tecnologías idóneas que complementan la atracción. Estamos encantados de que nuestros productos se hayan utilizado para dar vida a algo que tiene tanta importancia histórica y cultural".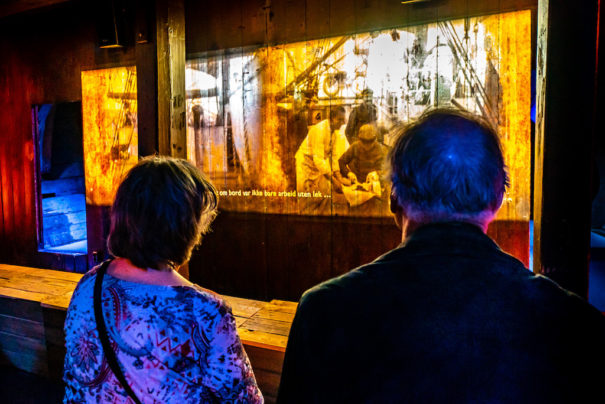 En esta línea, Geir O.Kløver, director ejecutivo del Museo Frammuseet, subraya que "esta configuración audiovisual de vanguardia ha enriquecido la experiencia para cada visitante, cualquiera que sea su edad. Hemos recibido unas opiniones increíbles desde que reabrimos las puertas al público, con un aumento sustancial de visitas. Estas ambiciosas remodelaciones demuestran nuestro compromiso constante por renovar la experiencia y que el museo siga siendo una de las atracciones indispensables de Noruega, dando un nuevo impulso al legado de Fram".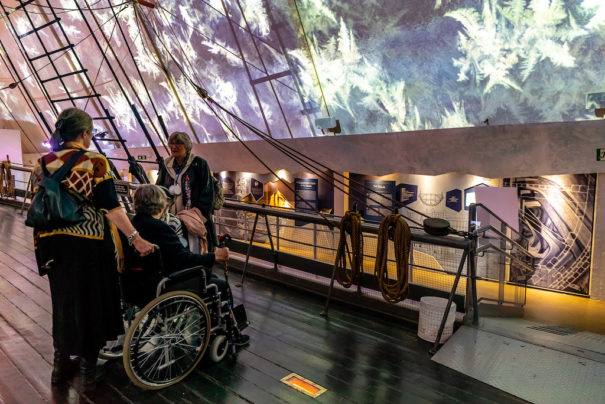 Did you like this article?
Subscribe to our RSS feed and you will not miss anything.
Other articles 7thSense, 7thSense Design, BlueBox Technology Solutions, Digital Projection,

Museo Frammuseet Oslo

, Ohm,

Sarner