M & S Bank Arena made its digital transformation with NEC Display
In total, have been installed 29 screens of 75 inches and 4K resolution UHD in the North, East and West; While in the outer lobby are mounted in vertical orientation 22 and seven inside. There are also two 1 × 4 videowall, configured with screen NEC 55 "in portrait mode.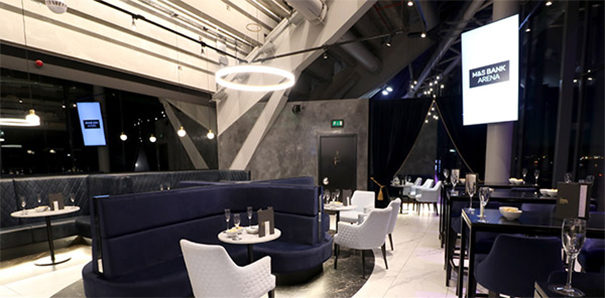 At M & S Bank Arena Liverpool, digital communications have enabled provides visitors a better experience at the time has achieved a medium for sponsors and advertisers. For the installation of this network is has uses display technology of NEC Display Solutions.
This campus is a versatile place both for entertainment and for conferences and exhibitions. A space that has become a key element in the economic development of the city of Liverpool.
Opened last year, it hosted the official opening ceremony of the Capital of culture, which marked a decade of regeneration in the city. Subsequently, added an exhibition center and a hotel.

This property, which belongs to the Liverpool City Council and is managed by The ACC Liverpool GroupIt is becoming the cultural and economic heart of Liverpool, and to continue to attract businesses and visitors to the city, the operators recognized the need to maintain its cutting edge environment and embarked on a digital transformation.
After a bidding process, was selected to Pioneer Group for the project of digital transformation in the M & S Bank Arena.
"Our advice regarding the use and content strategy opted for the installation of two videwowall that have been designed with the technology of NEC, given the robust design of their solutions and the high resolution screens. This allows us to offer a wide variety of content", says Paul Childerhouse, group director of Pioneer Group.
More than 40 screens and two videowall
In total, settled 29 screens of 75 inches and 4K resolution UHD in the areas of the North, East and West of the M & S Bank Arena. The outer lobby have 22 screens mounted in vertical orientation, of which 20 are placed in a back to back training, and the other two are mounted individually. The interior lobby have been installed seven wall both in horizontal or vertical format.
"75-inch-screen format is crucial to allow multiple windows at the same time, content to be displayed for optimizing digital revenues for the place, at the time the internal messaging and advertising displayed simultaneously" explains Paul.
The facility also has two walls of 1 × 4, configured with NEC 55 inch in portrait mode, format allowing you to better adapt to the walls of the entrance to the VIP area. With a great impact in large spaces, the robust design of NEC is essential to withstand the environment of public spaces.
El gran tamaño de la pantalla y la resolución UHD aseguran que el contenido atraiga la atención de las audiencias que se encuentran lejos, mientras se mantiene claramente legible a corta distancia.
Las pantallas de alta calidad mejoran la experiencia de los visitantes al tiempo que ofrecen oportunidades publicitarias para patrocinadores y empresas locales. El M&S Bank Arena es intrínseco a la economía local y su compromiso de mantener las instalaciones actualizadas como una propuesta atractiva para el lugar es un elemento esencial para asegurar el éxito de su futuro.
Did you like this article?
Subscribe to our RSS feed and you will not miss anything.
Other articles M & S Bank Arena, NEC, Pioneer Group