Christie's screening captivates visitors to the Canadian Pavilion at the Expo 2020 Dubai

The journey in the Canada Pavilion of the expo 2020 Dubai begins in a circular room of 52,5 metre, equipped with a projection screen of 360 Degrees,
un servidor de vídeo y

13 Christie DHD1075-GS. Two more are used on a large screen of 8 metre.

Christie's 1DLP laser projectors captivate visitors to the Canada Pavilion in the expo 2020 Dubai with stunning images. With their 1.364 square meters and located in the Sustainability District, has art installations, an interactive experience of light and sound, and an auditorium of 360 Degrees.

Ellisdon, a Canadian contractor, with Lord Cultural Resources, NGX Interactive and Kubik Maltbie as strategic partners, the contract to design was awarded, build and maintain the pavilion, hiring Electrosonic, Christie Partner, for AV and con systems Eos Lightmedia for interactive lighting systems.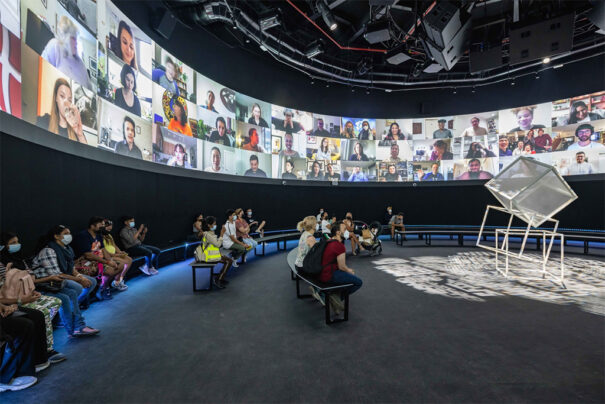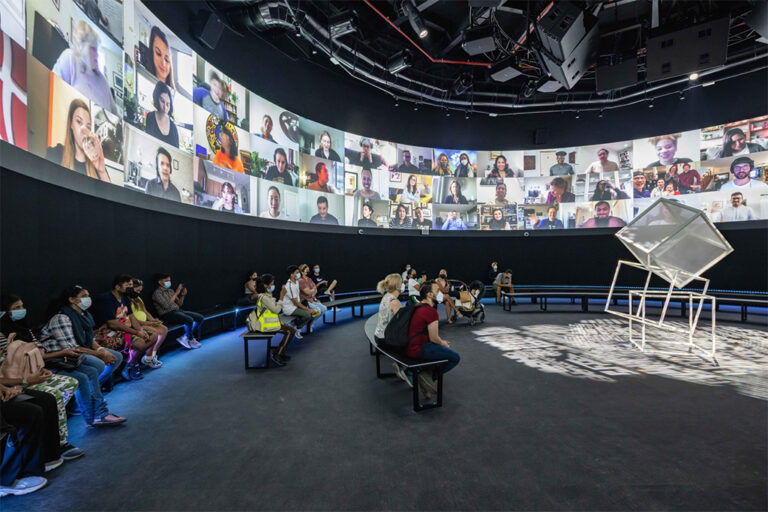 Landscapes and culture of Canada
With the theme "The future in mind", the pavilion covers exterior and interior elements, with AV systems designed, installed and programmed by Electrosonic.
"The pandemic was certainly a challenge., but the team was able to work with flexibility and agility to overcome the many difficulties that COVID-19 imposed on the project, thanks to the collaboration between our offices and equipment manufacturers, partners and the customer. We are more than satisfied with the result", Says Rob Stallard, senior project manager of Electrosonic.
The journey begins in a circular room of 52,5 metre, which is equipped with a projection screen of 360 Degrees, a video server and 13 Projectors Christie DHD1075-GS. These projectors 10.000 Lumens are suspended from a structure in the middle of the circular room and project a single continuous image of 360 Degrees. The circular display takes visitors through Canada's four seasons and is inspired by the vast Canadian landscape..
The journey through the pavilion continues with two additional DHD1075-GS projectors with short-range zoom lenses projecting onto a large screen of 8 meters installed by Electrosonic.

As official projection partner of Expo 2020 Dubai, Christie cuenta con un equipo dedicado de ingenieros de servicio altamente calificados en Servicios Profesionales, que están en el terreno disponibles para brindar soporte de emergencia para varios pabellones de la Expo.
"En Christie, con nuestro centro de ingeniería de excelencia ubicado en Kitchener (Ontario), estamos encantados de apoyar al Pabellón de Canadá con nuestra tecnología y experiencia", Says Zoran Veselic, presidente y director de Tecnología de Christie.
Como Socio Oficial de Proyección de la Expo 2020 Dubai, Christie's technology and professional services are part of several spaces, including the Russian Pavilion, that of Austria, Mission Impossible: the Opportunity Pavilion and the Emergency Operations Center. In addition, various immersive performances in the dome of Al Wasl Plaza, that you use 252 pure laser projectors Christie D4K40-RGB, take place regularly during the exhibition until the 31 March 2022.
"Christie's technology has created incredible visual experiences across the Expo. 2020 Dubai, even in the iconic Al Wasl Plaza building, that will remain as one of the legacies of the event. Over the years, has successfully showcased some of Canada's best innovations in the MENA region and beyond.", affirms S.E. Jean-Philippe Linteau, Consul General of Canada in Dubai and the Northern Emirates.
You liked this article?
Subscribe to our RSS feed And you won't miss anything.
Other articles on Christie, Electrosonic, Ellisdon, Eos Lightmedia,

Expo2020Dubai

, Kubik Maltbie, Lord Cultural Resources, NGX Interactive, Canada Pavilion