AUTELSI premia a Loterías y Apuestas del Estado por el proyecto de publicidad dinámica implantado por STL y TSA con equipamiento Panasonic.
La Asociación Española de Usuarios de Telecomunicaciones y de la Sociedad de la Información (AUTELSI) ha otorgado a Loterías y Apuestas del Estado el premio a la mejor iniciativa tecnológica en el sector público. Con el objetivo de reconocer los méritos y esfuerzos realizados por entidades públicas y privadas, personas, grupos de trabajo e instituciones en este campo, Autelsi concede, con distintas categorías, premios orientados a alentar el desarrollo de las TIC.En la categoría "Proyecto o iniciativa tecnológica en el sector público", ha premiado a Sistemas Técnicos de Loterías y Apuestas del Estado por su proyecto Canal LAE. Canal LAE tiene en total más de 4.500 pantallas en su red de comunicación, con un tráfico de más de 17 millones de personas por semana. El premio Autelsi al proyecto de consolidación de la publicidad dinámica como nuevo medio de comunicación en los puntos de venta, significa el reconocimiento al gran esfuerzo que conjuntamente llevaron a cabo los diferentes partners para incorporar el avance tecnológico a la cotidianidad de los usuarios.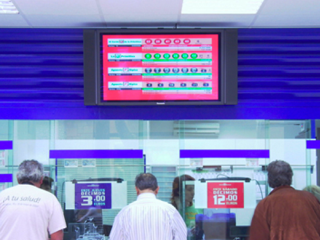 El proyecto llevado a cabo por Sistemas Técnicos de Loterías (STL) y Telefónica Servicios Audiovisuales (TSA) con equipamiento Panasonic, ha supuesto la consolidación de un nuevo canal de comunicación en España, a través de la implantación de más de 2.200 pantallas de plasma de Panasonic en su segunda fase. La mayoría de las pantallas escogidas por STL para el proyecto Canal LAE son del modelo 42 pulgadas de Panasonic, ya que gracias a su tamaño y prestaciones son ideales para las necesidades de presentación de estos puntos de venta. Muchas son las ventajas de estos plasmas ya que se caracterizan por una fiel reproducción del color, imágenes nítidas en movimiento, alto contraste, alto nivel de gradación así como su gran duración además de ofrecer una remotivación total de sus funciones. Además, se puede adaptar a las necesidades del cliente por medio de entradas de placa intercambiables. Panasonic y STL decidieron combinar el plasma TH-42PS10EK con altavoces y una placa de PC integrada ETX-1312C1000. Esta solución integral es perfecta ya que ahorra espacio y permite una instalación sencilla y simple, sin necesidad de cableado adicional o fuentes de alimentación externas.
Did you like this article?
Subscribe to our RSS feed and you will not miss anything.
Other articles on

AUTELSI

, Panasonic,

STL

, Telefónica